TOYOTA CUSTOMER STORY:

SAVAGE GARDENS: FROM WINNER TO GRINNER WITH TOYOTA PALLET JACKS
A Melbourne market gardener recently became the lucky winner of Toyota Material Handling's promotion to win the purchase price of any new Toyota walkie stacker or electric pallet jack up to the value of $15,000, purchased between June and August 2019.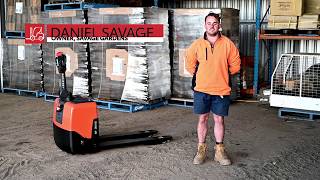 Daniel Savage of Savage Gardens said the fourth-generation family business was seeking a new electric pallet jack and evaluated several brands before arriving at a Toyota LWE130 model. "We needed a pallet jack for our truck and looked at some other brands, but they didn't have the turning circle we wanted," said Mr Savage. "Also, we have had many Toyota forklifts in our business over the years and found them to be extremely reliable. We thought about trying to save some money up-front by going to a different maker but in the end, we said, 'No, if the Toyota pallet jacks are like their forklifts, they'll pretty much last forever'. So, we rang-up Ross."
Ross Hourigan, Toyota Material Handling Australia (TMHA) area sales manager, Victoria, said Savage Gardens' decision to buy the Toyota LWE130 electric pallet jack was carefully considered. "They're a family business so they think hard about what they spend their money on," said Mr Hourigan. "We went through a process to help them select a unit that best fit their requirements for the tasks they were doing," said Mr Hourigan. "We put a demonstrator model on their site and showed them what the controls do and how to operate it safely, and then left it with them for a couple of days to practise its operation."
Daniel Savage of Savage Gardens with his new Toyota BT LWE130.