TOYOTA CUSTOMER STORY:
A boutique winery on Victoria's Mornington peninsula is reaping the benefits of upgrading to a new Toyota forklift with a custom-built attachment that delivers significant benefits in the busy harvesting season.
Ocean Eight Winery general manager and winemaker Mike Aylward said the decision was recently made to upgrade to the new Toyota 8FBN25 8-Series battery-electric forklift after the winery's needs had been well served by a much older Toyota forklift.

"We had a great older forklift that could be described as a relic," he said. "It gave us an excellent run but at 30 years of age it was time to move on."

Mr Aylward said Ocean Eight's forklift is used for general warehouse duties but also takes on a demanding and critical role during harvesting.

"The forklift is very much used in the processing side of our winery. Fruit is delivered in 500kg bins which the forklift lifts and then rotates into our grape press or grape destemmer. As we process around 90 tonnes of fruit a year it is vital we have a reliable forklift doing this work."


"I would definitely recommend Toyota forklifts to others"
Where previously carrying out these two tasks meant a time-consuming process of attaching or detaching the bin tipper, the new Toyota forklift has been modified so that it can be quickly fitted and removed as required.

"This adaptability is a real plus when we are in the heat of harvest," Mr Aylward said.

"We only get one crack at it and when the grapes are ready to be harvested they must come off straight away. There is no time to waste when making high quality wine."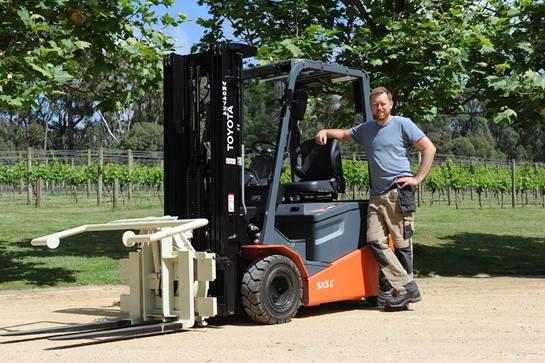 Toyota Material Handling Australia (TMHA) Melbourne area sales manager Grant Owen said the ability to modify the Toyota forklift to meet Ocean Eight's specific needs was a pleasant surprise for the winery.

"When Mr Aylward first approached us about upgrading to a new rental unit he wasn't aware that we could adapt the forklift to suit the winery's particular requirements.

"After we assessed their needs our TMHA engineers created a quick release mechanism for the bin tipper attachment, so the forklift retains its full range of features with the attachment on or off.

"It was previously a difficult process to swap between the bin tipper and normal forklift duties, and by being able to quickly remove the bin tipper they've increased the forklift's capacity from 1.3 to 2.3 tonnes, so they're very happy that they can now get the full range of uses they need from their forklift."

Mr Aylward said the experience of dealing with the TMHA Melbourne branch has been a positive one.

"The service and efficiency of the Toyota team in Melbourne has been great. While we're a small business and our needs are covered for now, I would definitely recommend Toyota forklifts to others," he said.

Chris and Gail Aylward began winemaking on the Mornington Peninsula in 1997 when they established the Kooyong Winery. After it was sold in 2004 son Mike joined them to form Ocean Eight at the family's property in Shoreham.