TOYOTA CUSTOMER STORY:
The durability and reliability of Toyota forklifts has led a major national freight and logistics company to renew its partnership with Toyota by signing an extended rental arrangement for 135 Toyota forklifts and reach trucks.
The 135 forklifts and reach trucks will be put to work at Northline's nine warehouses and distribution centres located around the Australian mainland. The bulk of the new fleet is made of up over 90 new Toyota 8FG25 2.5-tonne gas-powered counterbalance forklifts.
"The 2.5-tonne 8-Series forklifts are very well built and reliable and are the mainstay of our forklift fleet," Craige Whitton, Northline's Chief Executive Officer said. "We've never had a Toyota forklift down for a long period. In this industry we need to know our equipment will be ready to meet demand at peak periods, and having a fleet of Toyota forklifts gives us the confidence we need."
Northline's new Toyota fleet also includes more than 30 Toyota reach trucks and order picker forklifts plus four heavy-duty 15 to 20-tonne engine-powered forklifts.
"Toyota I-Site software is fully integrated...it's very user friendly and makes the task of managing a large fleet of forklifts much easier"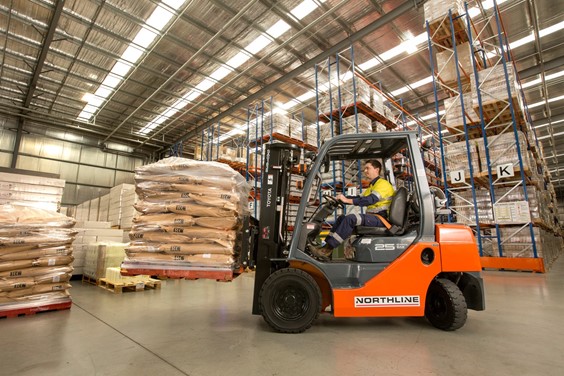 Toyota Material Handling Australia corporate account manager Peter Lown said the decision to enter into another long-term arrangement with Toyota was testament to Northline's trust in the strength of the Toyota brand. Mr Whitton said the quality of service and strength of the support received from Toyota was a key factor in Northline renewing its relationship with Toyota.
"If an issue arises we know a Toyota technician will be on site within a few hours, and if the problem can't be fixed then and there a replacement forklift will be provided, so there's no loss of productivity. All of Northline's forklifts and reach trucks are serviced by factory-trained Toyota technicians at regular intervals. They also undergo a weekly 'start-up' check where minor problems are dealt with on site and potential future issues can be flagged for later attention.
Another plus for Northline is the consistency of personnel that comes with dealing with an organisation like Toyota that has a large, highly trained team of technicians and branch support staff spread right around the country. "The consistency that comes from the one technician visiting the same depot each time is a real benefit to us," Mr Whitton said.
"They get to know our staff and our business, so they are familiar with the way we operate and our unique needs, and they know who to speak to." Toyota's I-Site online fleet management tool was another key factor in Northline's decision to renew with Toyota.
Mr Whitton said the Toyota I-Site technology fitted to its new fleet of Toyota forklifts and reach trucks offered greatly improved functionality and insights. "The Toyota I-Site software is fully integrated and all our managers have access to it," he said.
"We have just downloaded the mobile app that provides us with alerts and reports - it's very user friendly and makes the task of managing a large fleet of forklifts much easier. We're already getting a much greater benefit out of it."
Established in 1983, Northline is a privately owned and managed Australian company specialising in four major areas of service provision: road and rail freight management services; warehousing and distribution; global freight forwarding and mining, construction, oil & gas logistics.
With 13 branches across the nation, the company's extensive operation employs a diverse team of professional staff as well as dedicated full-time pick-up and delivery subcontractor partners in all mainland capitals and many key regional centres.