Lowa Lights Up With Help From Toyota Forklifts
Australian-owned lighting manufacturer Lowa Lighting has used the class-leading reliability and sustainability of Toyota Material Handling Australia (TMHA) forklifts to help grow its thriving business.

Based in Sydney, Lowa Lighting was founded in 2010 and has steadily grown its business with a focus on sustainable products and business practices.

Starting out with a single forklift, Lowa Lighting now boasts a fleet of eight machines, including five Toyota 8FG gas forklifts, two Toyota 8FBE18 electric forklifts and a Toyota RRE140 electric reach forklift.

Since its beginning, Lowa Lighting has relied on TMHA forklifts to ensure consistent and reliable warehouse operation, with the zero operating emissions of Toyota's electric forklifts a major factor for Lowa Lighting.

Lowa Lighting sales director Anthony Galimi said the company would be looking to expand its premises in the future and will be getting in touch with TMHA national sales manager Michael Tsougranis to source more electric forklifts for its new facility.

"We're looking to add more machines as we move premises, and we want to grow with Toyota, we want zero operating emission electric forklifts so I'll sit down with Mick and look at ways we can improve our efficiency and increase our sustainability footprint," Anthony said.

"With our forklifts going all-electric, they're a good partner to have."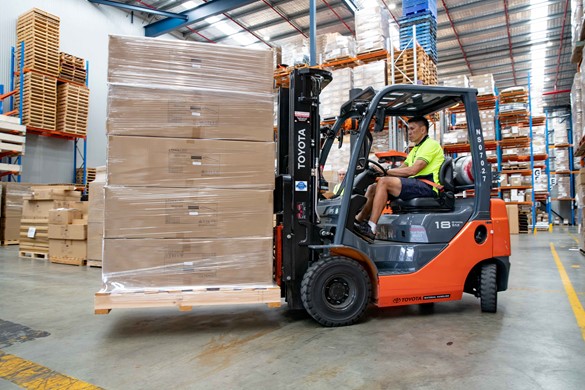 It is no coincidence that Lowa Lighting has exclusively used TMHA forklifts since its inception, with the service of Mick's team and the legendary reliability of Toyota forklifts both major reasons for the company's extended patronage.

"I think what I like best about Toyota is the service, and the quality and reliability of the machinery," Anthony said.

"They don't break down when you use them, and the service team and people behind the brand are really good.

"Mick does a really good job, nothing's a problem - you ring him up, if they need to come out, they do it straight away. If you need an extra machine, it is there the next day. The service is the most important thing."

The manoeuvrability and easy use of Toyota forklifts were also a big factor for Anthony, with the perfect forklift available for just about any use.

"The turning circle is tight, different sizes fit, they've got all different types to suit our needs," he said. "They're very adaptable."

Mick Tsougranis said that Lowa Lighting was likely initially attracted to TMHA due to Anthony's family involvement in the Sydney Markets, where Toyota forklifts can be found in abundance, running like clockwork to deliver the goods that traders require.

The strong relationship between Lowa Lighting and TMHA extends to a personal friendship between Anthony and Mick, with Lowa able to depend on Mick for a quick response and sure service.

"If there's any sort of problem he's out here right away. If you need another machine, it's no problem, he returns your call straight away.

"He's a really nice guy, a top bloke. I'd recommend him to anybody, he's very knowledgeable, I'm very happy to work with him."

There is a reason for Lowa Lighting wanting to purchase more battery-electric forklifts and move to a bigger premises, which is its desire to increase local employment by bringing more of its manufacturing capability home to Australia.

Over the next few years, Lowa Lighting plans to begin accelerating their local manufacturing capabilities at home in Sydney, shifting production from China in order to bring jobs home and offer Australian-made products.

"We believe in our product, in Australian-made, it's very important," Anthony said.

"I really believe we can get a better product locally manufactured and creating local jobs and stimulating our economy."

Anthony started Lowa Lighting in 2010 with business partner Sal Maresca, starting out in Sal's basement before moving to a small office in Baulkham Hills offering a single Australian-made down light.

Lowa acquired its first warehouse two years ago in Olympic Park, and now employs more than 30 people.
For more information free-call 1800 425 438 or contact us, here.