Zip Water On The Boil With Toyota Material Handling
Iconic Australian brand, Zip Water, recently acquired a substantial fleet of new Toyota Material Handling equipment to support its large investment in an expanded production line that greatly increases output for its flagship HydroTap range.

Founded in western Sydney, Zip Water has built its business over the last 70 years. From humble beginnings, the company now exports its innovative drinking water systems to more than 70 countries. Zip Water is proud to manufacture its product locally, out of its factory in Condell Park in Sydney's west.

Zip Water Head of Supply Chain, Glenn Bucknell, said that after being acquired by global water treatment company, Culligan, in 2017, the business has since launched into new markets, including the United States (US) and China.

"Culligan brought us an avenue into the US so we had huge potential for volume-growth and they encouraged us to up-scale our manufacturing footprint," said Mr Bucknell. "So, we made a significant investment in our new production line to scale-up our output."

To support its ambitious business expansion plans, Zip Water similarly updated its fleet of material handling equipment, which now includes four Toyota 730-DR32TT Double Deep Reach Trucks, two 8FBE18 and one 8FBN25 Toyota Battery Electric Counterbalance forklifts, Toyota Sprint elevated work platforms, Toyota Walkie Stackers and a Toyota 32-8FG30 LPG Counterbalance forklift with Cascade hydraulic fork-widening attachment.

"We were gearing up our physical infrastructure and our material handling equipment was a further extension of that, because it's a big part of our processes," said Mr Bucknell.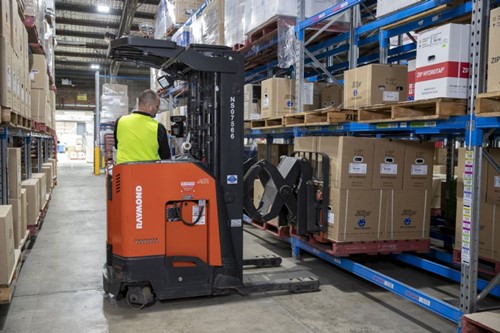 Zip Water formerly had an aging fleet from another supplier and a mix of owned and leased equipment. Mr Bucknell saw the plant expansion as an opportunity to update and streamline his material handling equipment and sought-out advice from Toyota Material Handling Australia (TMHA) and one other supplier.

"Our previous primary material handling fleet was getting old and our repair and maintenance costs were increasing. It was becoming inefficient to hang onto the equipment we owned, and to keep investing money in it.

"We adopted a model with Toyota to enable us to lease all our equipment. That gives us the latest technology and servicing at a fixed price with no surprises and gives us the flexibility to change the mix of our fleet and scale up according to business needs.

"It no longer made sense for us to invest in the outright purchasing of equipment because, with a business changing as rapidly as ours, we don't know what we're going to need in five years' time. So, having the flexibility that Toyota provides was attractive. It's reassuring to know that we have a partner that can meet our needs as our business grows."

TMHA NSW major account manager, Michael Provan, said as part of the tender process, he applied one of the cornerstones of the Toyota Advantage: Tailored Business Solutions. "We at TMHA always try to understand our customers' businesses operate, what their needs are and make our recommendations to help increase their operational efficiencies, safety and comfort, based on that," said Mr Provan.

"In Zip Water's case it was about modernising their fleet and adopting a leasing with fixed-servicing costs model to provide greater transparency and peace-of-mind that they weren't going to get any performance issues that could result in significant downtime - an especially important consideration for manufacturing facilities.

"So, in general, Tailored Business Solutions was about upgrading their fleets and streamlining operations. We also specifically applied that Toyota Advantage to the customisation of an attachment for their new Toyota 32-8FG30 LPG Counterbalance forklift.

"They had a very particular manufacturing and handling step that was a real bug-bear for them in terms of their old forklift that had a fixed attachment. We were able to solve the issue for them by recommending a Cascade hydraulic fork-widening attachment which not only improved the efficiency of the process and the safety afforded by avoiding manual handling, it also dispensed with a secondary machine, entirely."

Zip Water's Glenn Bucknell explained that two machines were formerly required to perform duties in the plant's sheet metal production area. "It was challenging for us because we were maintaining two separate machines to do different aspects of the tasks, and the process of manually loading and unloading machines was a risk-point for us," he said.

"With the new Toyota forklift having a customised mechanical fork-spreader attachment it was like having two machines combined into one. So we were able to get rid of one machine off the floor which helped from a cost and an efficiency perspective, but also solved a safety issue for us by removing a manual-handling risk. It's really enabled us to take that process to the next level."

Now having such an extensive fleet of new Toyota Material Handling equipment, it was important to Zip Water that servicing be efficient and transparent. "It's essential for us to have a partner that 'clicks' with our business, one we know we can trust and will take care of all our servicing details. It helps that all our Toyota equipment can be serviced in the one visit.

"It's also great to have the peace-of-mind that fixed servicing costs brings, we know exactly what we're paying every month. There are no surprises in terms of cost or machine performance. Downtime is a killer for us so having the reliability of the new Toyota machines is a welcome relief."

"Every time a new machine has turned up it has worked brilliantly, so they've been well-received by our operators. The feedback has been overwhelmingly positive.

"A lot of our guys have never operated brand-new equipment, so they get pretty excited about it. In many ways, it has helped our people to feel more engaged in their work. It's an investment around them and helps them feel part of a business that's performing well."

For more information free call 1800 425 438 or visit toyotamaterialhandling.com.au