INSIGHT - Toyota Huski skid steer loader reliability helps grow LH Excavations
BY TMHA VICE PRESIDENT & CHIEF OPERATING OFFICER, CAMERON PAXTON.


At Toyota Material Handling Australia (TMHA), it gives us great pride that our equipment can help small Aussie businesses grow and go from strength to strength in their respective industries.
A recent example can be found with Sydney-based LH Excavations, who have used the legendary reliability, durability, and safety of our popular Huski skid steer loaders to expand their operations beyond simply excavation.
LH Excavations was started seven years ago by owner Lee Heares and his partner Eleni Kamper, who over the years rented excavation equipment from a range of manufacturers to support its operations.
However it found itself regularly lending out its equipment to other businesses, and saw the opportunity to start its own equipment hire arm, called LH Excavations.
LH made the choice to purchase a pair of skid steer loaders for its hire business, and after renting a range of different machines over the years, it settled on Toyota Huski skid steers due to their impeccable performance and ease of use.
Lee said he needed his hire equipment to be able to work day in, day out – traits he had come to expect from the Toyota Huskis he had previously hired through LH Excavations.
LH Hire is now the proud owner of two Toyota Huski skid steer loaders – a 3.1-tonne 5SDK8 and a 1.1-tonne 4SDK4 unit well suited to applications where space is tighter, such as backyard DIY projects.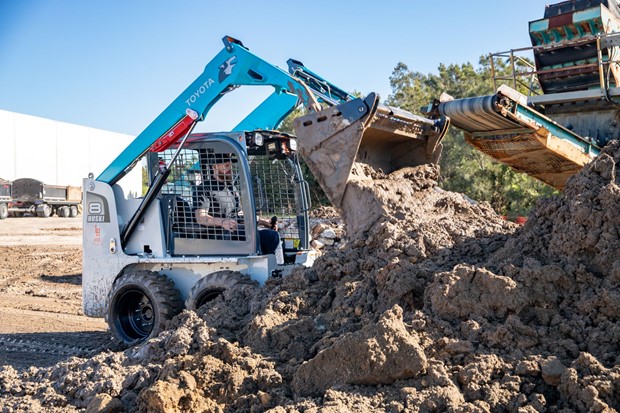 Lee also said he appreciated the mechanical simplicity of the Huskis, which contributed to the reliable performance.
That sentiment is shared by many TMHA customers across the country, who appreciate that the Huski skid steers are built to last without an overabundance of computerised systems, another reason why they are known in the industry as being the "Top Dog In The Dirt".
Lee told us he would happily recommend TMHA to others within the industry, not just due to the performance of the equipment, but also thanks to the strong relationship that has been fostered between LH Excavations and the TMHA team led by Sydney area sales manager Peter Bower.
He also told us that they have plans to grow their business even further, with the goal of expanding LH Hire in the future with the addition of more machines.
When the time comes, we will be more than happy to assist building out their fleet with more equipment, whether it's Huski skid steer loaders or other material handling products like our Toyota forklifts.
We wish the best for LH Excavations as they continue their expansion, and look forward to developing an ever-stronger relationship by supplying their business with high quality, reliable and comfortable equipment.