INSIGHT - Toyota forklifts keep on trucking for Simon National Carriers
By TMHA Vice President & Chief Operating Officer, Cameron Paxton.


At Toyota Material Handling Australia (TMHA), we collaborate with businesses of all sizes, and it was great to have one of Australia's largest privately owned transport companies, Simon National Carriers, continue to put their trust in Toyota forklifts to help keep their warehouses running at peak operational capacity.
Indicative of the strength of our partnership, Simon National Carriers recently took delivery of a fleet of 40 new Toyota forklifts split between 7500-7520 electric reach trucks and 8FGD10 gas counterbalance forklifts, to be sent to depots across the country.
This privately owned national freight company has a proud Australian history and has relied on the legendary safety, reliability, and sustainability of Toyota forklifts to keep its array of warehouses running like clockwork.
For Simon National Carriers, high-quality warehouse equipment is of utmost importance, given they run a start-to-finish service for their customers that allows them to store stock for customers until they require it.
Ahead of its latest fleet purchase, Simon National Carriers canvassed the products of multiple manufacturers before settling on TMHA, with the Toyota products offering many innovative features.
Simon National Carriers assistant fleet manager Scott Horwood found a number of features stood out for him, such as the sit-down, stand-up functionality of the reach forklifts, which allows operators to choose the ergonomic set-up that suits them best.
Combined with the zero-emission electric powertrain of the reach forklifts, the Toyota forklift products was simply too good to pass up.
As for the gas counterbalance forklifts, Mr Horwood said the no fuss servicing of our Toyota equipment made it the perfect solution for Simon.
Mr Horwood was also a fan of our exclusive and industry leading Toyota System Of Active Stability safety system, and the comfortable and ergonomic design of our machines.
At TMHA we strive to foster long lasting relationships with our customers, and we look forward to continuing that relationship with Simon National Carriers as they go from strength to strength.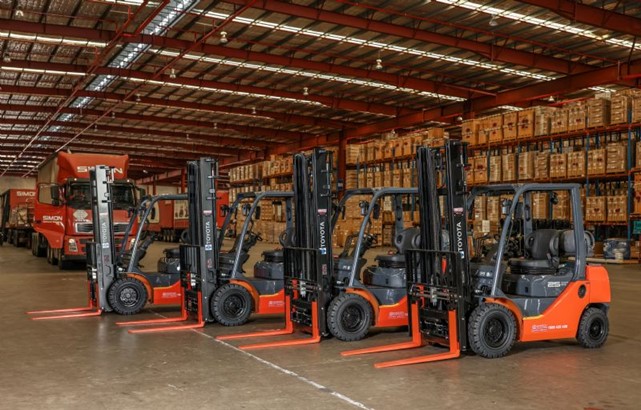 For more information free call 1800 425 438 or contact us, here.