INSIGHT - TMHA lends a hand to RFDS heroes
By TMHA Vice President & Chief Operating Officer, Cameron Paxton.


At Toyota Material Handling Australia (TMHA) we are always looking for ways to contribute to worthwhile causes, and needless to say there are few more worthwhile causes than the Royal Flying Doctor Service (RFDS) who have continually provided invaluable medical services to remote communities for the best part of a century.
It is with great pleasure that I would like to announce the donation of five Taylor-Dunn model Bigfoot 48V Burden Carriers, to be distributed among RFDS locations across the country.
One unit each will be sent to assist in aircraft ground support and engineering operations at major RFDS hubs in Melbourne, Sydney, Perth, Adelaide and Townsville.
We couldn't be prouder to support such an essential and uniquely Australian organisation as the RFDS, which provides emergency medical and primary health care services to anyone living, working, or travelling in rural and remote areas around the country.
Helping over 1000 people every day, the RFDS has to cover the vast 7.69 million square kilometres that makes up Australia's backyard with a fleet of 79 aircraft that clocked up nearly 29 million kilometres of cumulative travel last year.
In total, more than 337,000 patient contacts were made last year through RFDS clinics, aeromedical transports, and telehealth consults, showing the priceless impact the service has on our most remote and vulnerable communities.
The RFDS relies in large part on the generosity of the wider community to continue its top-shelf service, and the donation of these five Taylor-Dunn machines will help make the jobs of staff a little easier.
Using zero operating emissions electric powertrains, the Burden Carriers can carry up to 1360kg or tow up to 3400kg, while offering a large operator's compartment, tilted steering and sliding adjustable seats.
On behalf of TMHA, I would like to thank the RFDS for the essential work they do to keep all Australians safe and healthy in some of the most trying conditions on the planet.
Australians have been studied, served, and saved by the RFDS for the past 93 years and counting, and I'm sure I speak for the wider community when I say I hope that excellent community service will continue for the next 93 years and beyond.
https://www.flyingdoctor.org.au/what-we-do/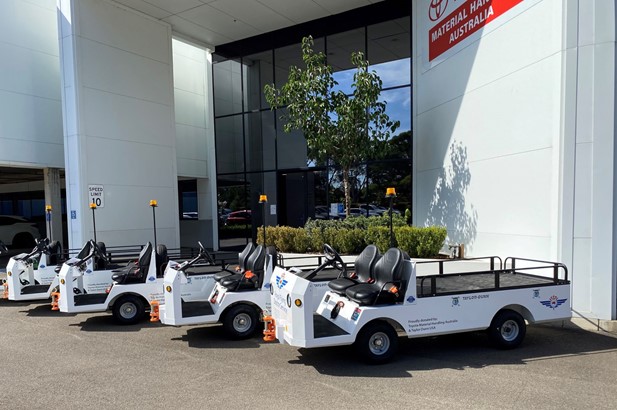 For more information free call 1800 425 438 or contact us, here.