INSIGHT - Legendary Toyota Forklift Reliability, a Perfect Fit for Andromeda Industries
By TMHA Vice President & Chief Operating Officer, Cameron Paxton.


At Toyota Material Handling Australia (TMHA), we pride ourselves on forging long lasting relationships with our customers through not only the strength of the product itself, but the dedicated service of our sales managers and service support staff.
New South Wales-based Andromeda Industries, one of our valued customers and long-time manufacturer of steel cables and rubber products, has used the legendary reliability, safety and sustainability of TMHA forklifts to grow its thriving business.
Based just outside of Tamworth, Andromeda Industries has been our loyal customer for over 20 years, and recently took delivery of a GEN11 62-8FD30 3.0t diesel forklift, bringing its fleet of Toyota forklifts to three.
Andromeda Industries owner Raymond McLaren found it an easy decision to continue his patronage of TMHA, thanks to more than two decades of consistently excellent performance.
The simple operation and incredibly consistent performance were big factors for Mr McLaren, who operates the machines himself and enjoys the smoothness, hushed performance, gear ratio calibration and hydraulic system offered by Toyota forklifts.
Mr McLaren is no stranger to exceptional designs and craftsmanship, using his spare time to build handmade timber jewellery boxes that are so finely made that they require no glue, metal hinges or metal fastenings in their construction.
A skilled engineer by trade, Mr McLaren knows excellent design when he sees it, and puts TMHA forklifts in the same category as engineering designs such as the CV joint, which he describes as a "climax design" – one that needs no improvement.
The bread and butter of Andromeda Industries is undoubtedly steel cables and rubber matting, however our Toyota forklifts are also occasionally entrusted to transport particularly expensive equipment.
One example is the recent astronomical equipment that Andromeda was recently trusted to repair, with over $1 million of astronomical equipment transported on Toyota forklifts including a 400kg glass mirror.
Mr McLaren was quick to sing the praises of his local TMHA area sales manager Allan Peacock, who has spent the last decade facilitating sales and service excellence for Andromeda Industries.
Our relationship with Andromeda Industries began in 2012 with the purchase of an 8FD20 2.0t diesel forklift, and it has since blossomed into one of great mutual respect.
Easy and hassle-free servicing are key facets of the Toyota Advantage, and the performance of Mr Peacock and his team ensure that the Andromeda Industries warehouse never grinds to a halt.
Mr McLaren said he would have no problem recommending TMHA to others in the industry, due to the excellent customer service and ownership experience he has received since purchasing his first Toyota machine.
The genesis of Andromeda Industries began back in the 1970s when Mr McLaren turned his hobby of splicing wire rope into a full-time profession, and later set up a site in Tamworth.
Now located on a 15-acre site just down the road in Moonbi, Andromeda Industries employs 15 people and turns out high-quality rubber and steel products, all helped by the performance of the three-strong fleet of Toyota forklifts.
We wish Mr McLaren and his team the best for the future, and look forward to continuing to grow our relationship.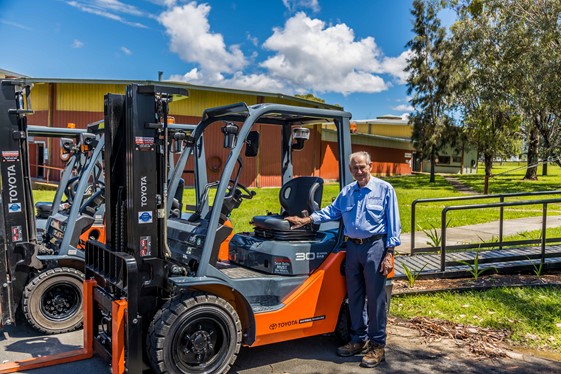 For more information free call 1800 425 438 or contact us, here.