Insight- Toyota Huski carving through timber business' workload

By Cameron Paxton, Director Of Sales, Toyota Material Handling Australia


A few months I was delighted to be able to advise the recent launch of new range of mini excavators and scissor lifts, to join our existing line up of skid steers loaders, and form our newly consolidated Huski Construction Equipment (HCE) range of products.

HCE products are easily identifiable by its distinctive blue logos and livery as opposed to our comprehensive material handling equipment range, which are distinguished by sporting TMHA's traditional orange colour.

The Toyota Huski skid steer loader range has been entrenched in many Australian businesses for over thirty years, and it's brilliant to see just how effective our Huski skid steer loaders can be in so many different applications. First-time Huski customer, Justin Fox, has been putting his new Toyota 5SDK9 skid steer loader to work and what a difference it has made to his business.
Fox in the Woods is a family run business in Tamworth, New South Wales, that that gathers timber logs and mills and handcrafts timber into various forms. It's mainly the timber log-grabbing part where the Huski comes in but it's also used for many other duties.
Justin Fox started out his business with just a chainsaw and a trailer so things have come a long way for him. On his first day with his new Toyota 5SDK9 skid steer loader he used it to move 30 tonnes of timber in a single day, carving through his workload.
Having this multi-purpose machine has made a huge difference to Justin's business, and his body. He related that using the Huski to perform heavy duties has reduced the toll on his body from manual lifting to the point where it makes the difference between whether he can, or cannot, pull his boots on in the morning.
Justin took his research into purchasing a skid steer loader slowly and seriously, first meeting Toyota Material Handling Australia Newcastle area sales manager, Allan Peacock, at the AgQuip Field Days in Gunnedah, in 2017.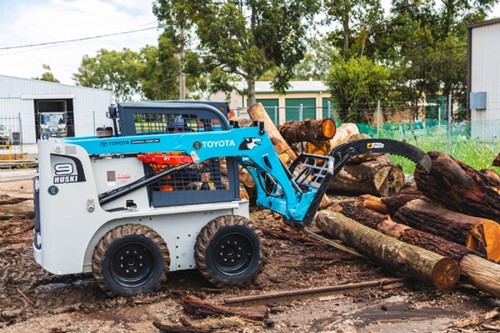 Justin informed Allan of his intention to buy a skid steer loader and Allan regularly checked in with him to see how his diligence process was tracking.
Justin's purchasing diligence extended to Toyota Huskis after he discovered they preferred them. He discovered that one of the reasons why is Huskis' mechanical simplicity, which contributes to durability. Because he is a plant mechanic by trade, he could easily understand how they are built and that gave him confidence he could fix his Huski on site if it ever had problems because he could work on it himself.
Despite being a mechanic, Justin is happy for TMHA to service his Huski under warranty and perhaps outside it, too.
Before settling on his 5SDK9, Justin was favouring our largest skid steer loader: the 5SDK11, however Allan Peacock advised Mr Fox that an 5SDK9 would better suit his requirements because the engine horsepower was more than ample and it had the best radial lift versus vertical lift.
He must still have an 5SDK11 on his mind, though, because he's thinking about getting one to specialist in earthworks.
Seeking to maximise the versatility of his 5SDK9, Justin selected several attachments for his Toyota Huski skid steer loader, with the help of Allan, including a Digga 4 in 1 general purpose bucket, Digga 300mm and 450mm Auger Drives with Tungsten Tips, a Norm Reversible Stick Rake and a HIMAC Pallet Fork with Grapple attachment.
Justin's favourite attachment by far is the grapple which allows him to lift and hold large timber logs whilst traversing uneven ground without losing control of the load which he says is worth its weight in gold.
Fox in the Woods' investment in his 5SDK9 has been a significant yet worthy one, with Justin saying it is already paying for itself because of the business' massively increased efficiency and production, and not having to pay for hire fees.
So impressed with his 5SDK9 workhorse was Justin that one day he was compelled to call Allan, who was concerned there might be a problem. Justin told Allan there was a problem: that it was, in his words, "Too bloody good!".