INSIGHT - Toyota Forklifts come First for celebrated wine-maker
By Cameron Paxton, Vice President & Chief Operating Officer, Toyota Material Handling Australia

As families across the country prepare to reunite for the festive season over a bottle of wine – or two, one of NSW's most prodigious wine-makers has called on the exceptional reliability, safety and comfort of Toyota Material Handling Australia (TMHA) forklifts for their business.
To help gear up for its late-summer harvest season in early 2022, First Creek Wines in the Hunter Valley has purchased a fleet of 10 8FBE18 battery and one 8FD25 diesel forklifts, proving that sometimes Christmas does indeed come early.
Since its inception in 1998, First Creek Wines has grown steadily to become one of Australia's most successful contract wine-making businesses, producing over 3,000 tonnes of product and bottling 1.2 million cases of wine every year, with its operations running 24 hours a day, five days a week.
Our legendary Toyota reliability was one of the primary reasons for purchase for First Creek Wines managing director Greg Silkman, who had experienced problems with breakdowns from the company's previous forklift supplier.
When the time came to order new equipment, trials were done with various manufacturers however the performance and simplicity of the TMHA machines drew the most glowing praise from warehouse staff.
While the exceptional reliability, class-leading safety and fantastic operator comfort are all reasons to choose Toyota, Mr Silkman also pointed to the relationship the company has with its TMHA sales representative Allan Peacock as a reason for purchase.
Mr Peacock has provided a seamless purchase process, from the time they first met earlier in the year to trial products, to the on-time delivery in August.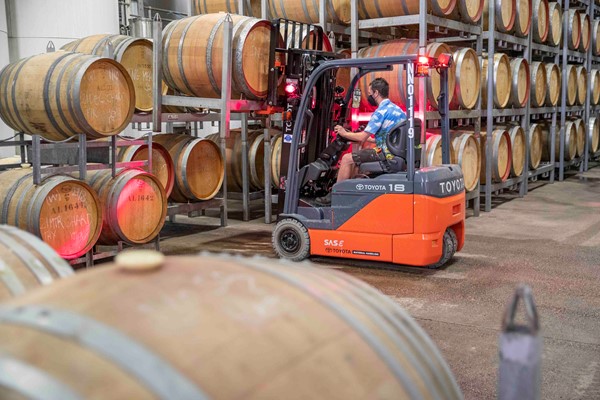 Mr Silkman appreciated the genuine care and business synergy provided by having Mr Peacock on board, with both parties working hard to ensure the business runs as smoothly as possible all year round.
Safety of the warehouse staff is a top priority for First Creek Wines, which is why Mr Peacock oversaw the installation of red halo lights and blue rear spotlights on all machines, helping to vastly improve visibility.
When working on the bottling line, the machines work in close proximity to the staff, and the added lighting feature creates a safer and simpler working environment for all.
Various other features were flagged by First Creek Wines as compelling reasons for purchase, including the suspended seat, dash displays, longer battery life compared to competitors, and safety features including the Toyota SAS system and Operator Presence system.
With 85 staff and three bottling lines, First Creek Wines produces wine for vineyards all over the Hunter Valley region and is only looking to increase its business output with the help of TMHA.
Whether crafting the vintage post-harvest or simply bottling wines for other companies, its facility has the capacity to store 7,000 pallets, with five forklifts assigned to picking and packing orders alone.
With harvest season typically running between January and May, it is gearing up towards the most important time of the year for First Creek Wines, where it is imperative that all aspects of the supply chain are running at peak efficiency.
Armed with a new fleet of TMHA forklifts, First Creek Wines has put itself in the best position to provide the right ingredients for families to get together and enjoy the festive season.
For more information free call 1800 425 438 or contact us, here.