INSIGHT - Toyota electric pallet jack promotion proves 'Catch Of The Day' for Endeavour Foods
By Cameron Paxton, Vice President & Chief Operating Officer, Toyota Material Handling Australia


It is with great pleasure that we at Toyota Material Handling Australia (TMHA) can announce valued Toyota customer Endeavour Foods as the winner of our recent "Stacks & Jacks" promotion.


The Perth-based seafood distributor was the lucky national winner of our competition allowing entrants to win the purchase price of any new Toyota walkie stacker or electric pallet jack, up to the value of $15,000, purchased between June and August 2021.


Endeavour Foods recently purchased a Toyota LWE180 powered pallet jack, increasing its fleet of TMHA equipment to six forklifts. Operations Manager Lloyd Wright has been delighted with the results from the new purchase and his prize win.


Endeavour Foods made the switch to TMHA six years ago and Llyod has been quick to mention not just the reliability, but the excellent customer service provided by TMHA area Sales Manager Danny Carbery, who helped facilitate the sale of Endeavour Foods' equipment, including the winning electric pallet jack!


We're thrilled that Endeavour Foods has had their biggest catch of the year, by being our Stacks & Jacks winner for 2021. Congratulations to Lloyd and the whole Endeavour team!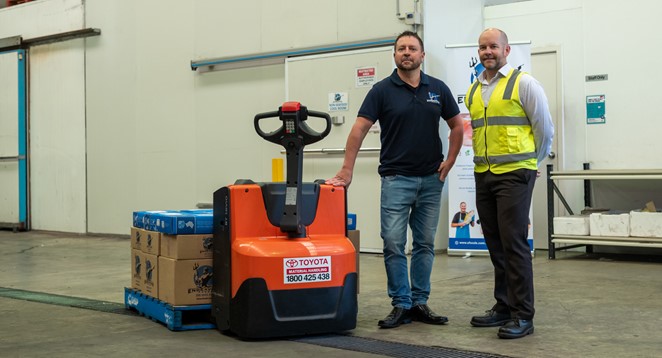 TMHA Area Sales Manager Danny Carbery (right) delivers the good news to Mr Wright (left).
Click here to find out more about our current product offers.