RÖHLIG LOGISTICS CELEBRATES 50 YEARS IN AUSTRALIA WITH CUSTOM TOYOTA FORKLIFTS
Owner-managed transport logistics company Röhlig Logistics is notching up 50 years of operation in Australia and is celebrating with the purchase of a fleet of custom painted Toyota electric forklifts.

Röhlig Logistics recently purchased a fleet of battery-electric Toyota forklifts, with distributor Toyota Material Handling Australia (TMHA) adding and extra-special touch by having the equipment painted in custom Röhlig blue.

Röhlig Australia managing director Mat Vermeulen said the 50-year celebrations would be a great occasion for the company.

"Part of the deal with TMHA was to paint the Toyota orange to Röhlig Logistics blue, and we will apply our Röhlig Logistics decals to that and make it part of our 50-year celebrations," explains Mat Vermeulen.

"We're actually about to convert our trucks - we run our own fleet of trucks in the main centres of Australia - and we're going to convert the curtains to our new 50-year anniversary picture mark.

"It's a true celebration for both our customers and our employees, so we're really looking forward to the event which will be at the end of the year."

Röhlig Logistics recently put out a tender for new material handling equipment, with the emission-free powertrains and dependable performance of Toyota electric forklifts a big reason for TMHA being the company of choice.

Mat Vermeulen adds: "We went to market for our MHE, during the start of COVID. Part of the deal was to look at our sustainability as our organisation. We were using a lot of gas forklifts and we have converted to electric forklifts."

"We actually wanted to make sure that the guys and girls on the floor were engaged and part of the process, and they got to choose which gear they preferred, and Toyota was actually a front-runner there so very happy with the choice."

"I think it was the general feel, the lifting capability and the new technology that was part of that decision making process."

In total, the new Röhlig fleet consists of 13 Toyota electric counterbalance forklifts ranging from 2.0 to 5.0-tonne capacity, two Toyota OME120HW order pickers and four Toyota RRE140H2 reach trucks, distributed across warehouses in Brisbane, Sydney, Melbourne and Auckland.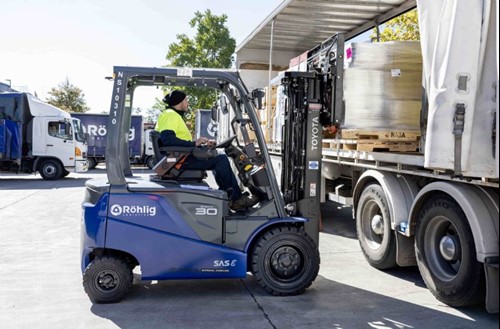 The Röhlig Logistics blue paint colour has also been a big hit with the machine operators.

"I think when the products arrived in Röhlig Logistics blue the guys took a lot of pride, to the point where I've been on the floor and seen one of the guys giving a machine a bit of a buff," Mat Vermeulen said.

"They take pride in the equipment that they have, and they've been on site for over a month now and there's not one single scratch on there. It's a good sign that they're invested in and looking after the equipment."

The tender process was spearheaded by Sydney-based major account manager Michael Provan, who said that the combination of TMHA's servicing, product and value was unmatched among the competition.

"The feedback I got from their procurement team was that we were who they were most comfortable with moving forward after going through the tendering process, so we had been able to demonstrate the best product, the best service back-up, and pricing is obviously important," Mr Provan said.

TMHA is also easily able to offer custom paint colours to suit any customer's preference.

"These Röhlig Logistics ones we did at the factory, we can do it locally as well," Mr Provan said. "We can do it with custom colours, all we have to do is get the colour code and we can have the factory match the paint."

Röhlig Logistics Australia has recently opened a new warehousing facility in Perth and will soon be launching an additional warehouse in Adelaide.

When it comes to procuring new equipment for the two latest warehouses, Mr Vermeulen said Toyota would be at the top of the list.

"We most certainly will look at Toyota again" he said. "I get glowing feedback to be honest, they're very comfortable, it's good size equipment that we ordered, and if you go and ask them about the gear they're faces smile which is a nice thing."

The relationship formed between Röhlig Logistics and Mr Provan's team has also been a determining factor in the high level of satisfaction for the new forklift fleet.

"They've been very professional, they obviously understand the product very well, they take a lot of pride in what they do," Mr Vermeulen said.

"I think the process was a very professional approach and they followed up very well, so I was very impressed with their approach."

Röhlig Logistics 50th-anniversary celebrations will take place towards the end of the year with events in each state that it operates, and will also honour long-standing employees and commercial partners of the company.

The company has also transformed its fleet of trucks with Röhlig Logistics blue liveries, and will mark the occasion with a series of media events.

First founded in Germany in 1852, Röhlig Logistics entered the Australian market in 1973 and has grown its Australian presence to roughly 250 employees in locations across the country.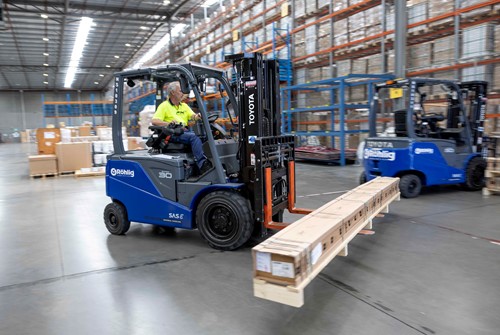 For more information free-call 1800 425 438 or contact us, here.