RELIABLE TOYOTA FORKLIFT PERFORMANCE HELPS GORDON LITCHFIELD WOOL THRIVE
A rural New South Wales-based wool broker has used the legendary reliability and durability of Toyota forklifts in order to grow its business over the course of nearly 30 years.
Gordon Litchfield Wool, based in both Cooma and Yass, provides wool brokering services to sheep farmers both large and small, and uses a fleet of eight Toyota forklifts to transport and store wool bales, sourced from distributor Toyota Material Handling Australia (TMHA).
The company has used Toyota forklifts for the majority of its existence, first purchasing a 6-Series forklift back in the 1990s and since adding 7- and 8-Series as the business grew.
Owner Gordon Litchfield said his relationship with Toyota forklifts started early in the business' life, and has only become stronger as time goes by.
"Very early we bought our first Toyota when we moved to our current store in Cooma; we needed extra forks so we bought a new Toyota fork," Mr Litchfield said.
"After using it we sold our other one straight away and bought a used Toyota fork. We had one or two in the first few years but we cottoned on to Toyota very early in the piece."
A testament to the build quality of Toyota forklift products, the first 6-Series forklift purchased by Gordon Litchfield Wool is still being used by the company almost 30 years later.
Mr Litchfield said that despite buying a new Toyota forklift every few years, if the current fleet is still performing to standards then he doesn't see the need to replace them.
"We've still got one of the originals – I think it was actually the first one we ever bought," he said. "It has been such a great fork, we've got it here as a backup.
"It's been a magnificent machine; I think we put a new head gasket on it a few years ago and just said 'let's keep it'."
Gordon Litchfield Wool recently took delivery of a new 32-8FG25 LPG forklift, which like all other forks on his fleet has been fitted with a wool grab, allowing easy transportation of multiple large wool bales.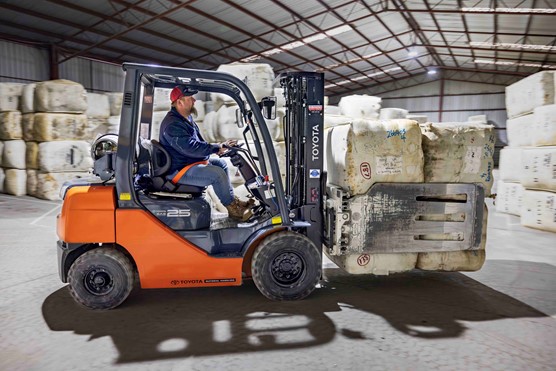 Mr Litchfield said the durability and reliability of Toyota products were big reasons for him developing an exclusive relationship with TMHA, however there were also other factors that played a part.
As a wool broker, he spends significant amounts of time in large wool stores, where Toyota forklifts can be found in abundance.
"I really like the build quality and reliability; they are just a better machine to use," he said.
"And I did my homework elsewhere, they were very popular at other wool stores. I looked at the big wool stores in Sydney, the bigger brokers at the time and what they were doing, I just noticed that the Toyotas seemed to be very commonplace, and I'm a fair fan of the quality of Toyota having come from the bush."
The volatility and inconsistency of the wool industry means a huge amount of wool may need to be moved at any given time, meaning the reliability of the forklifts is paramount to a wool business' success.
"I don't find them overly complicated," Mr Litchfield said. "They're well made and I've never had any major problems, they're easy to work on for servicing, things like that. And we've never had any major reliability problems."
Having bought Toyota models over the course of nearly 30 years, Mr Litchfield has also seen the evolution of Toyota safety technologies which ensure the best possible protection for occupants.
Strong safety credentials are important to the company, and Mr Litchfield has been pleased with the Toyota System of Active Stability (SAS) safety system.
"I've always been impressed that as each model has improved, the safety requirements have really kept up to date really well," he said.
With such strong brand loyalty, Gordon Litchfield Wool has developed a prosperous relationship with the local TMHA branch led by area sales manager Mark Elvins.
"I don't shop around, simple as that," Mr Litchfield said. "I just ring Mark and say 'I need another forklift', to put it bluntly.
"Mark understands our business very well. And regularly drops in when he's in the area, keeps me up to date when there's a good deal on. He's my forklift man and that's it."
Mr Litchfield said he has spoken highly of Mr Elvins to other local businesses in the area, thanks to both the service provided and the performance of the products.
"I've recommended Mark and his group to several others in the area," he said. "He keeps me up to date with things, drops in regularly, he's a hell of a nice bloke.
"It's a side of our business that isn't complicated. We can be really busy at times; our business is seasonal, and we have to move a lot of wool at times, and that's one thing we don't have problems with."
Mr Litchfield and his wife Kate started Gordon Litchfield Wool in a small shed in 1995 and has since grown to employ 15 people across its two facilities in Cooma and Yass.
The company can assist and advise clients from classing their wool in the shearing shed, to testing and cataloguing for sale at auction to all markets internationally.
Mr Litchfield has also championed the wool industry over the years, working with Australian Wool Innovation to help promote local wool growers and their products.
For more information free-call 1800 425 438 or contact us, here.