Robinson's Fresh Solutions Leaves Competitors Green with Envy
A long-standing customer of Toyota Material Handling Australia (TMHA) has decked out its fleet of new Toyota forklifts in a striking green livery, helping the range of equipment stand out in the bustling Melbourne Markets.

Robinson's Fresh Solutions, a fresh produce and flower logistic service provider based in Epping, Victoria, recently took delivery of a fleet of 11 new forklifts to service its bustling operation at the Melbourne Market, continuing a fruitful partnership that has lasted for decades.

The business, which has been operating in Melbourne for over 50 years and first partnered with TMHA in 1998, has used the legendary durability and reliability of Toyota forklifts to steadily grow its business into the thriving operation it is today.

Mitchell Robinson, Operations Manager at Robinson's Fresh Solutions, said the reliability and ease of use of the Toyota forklifts, as well as the on-site servicing offered by TMHA made the choice to renew the contract an easy one.

"As a logistic service provider offering a broad range of services to the fresh produce industry, that essentially operates 24/7, Toyota's on-site presence within the Melbourne Market to provide on-site servicing allows any maintenance or problems to be fixed quite promptly" Mr Robinson said.

With a new fleet consisting of nine Toyota 32-8FG18 and two 32-8FG25 forklifts, the Robinson's machines will be decked out in a British Racing Green wrap to match the exterior colour of the original Louisville truck used by founder Eric Robinson in the 1960s.

"Back when they first had the business, the forklifts only ran 6-8 hours, now they run 16-20 hours a day." Mr Robinson said.

With a daily run-time of 16-20 hours, Robinson's Fresh requires regular servicing for its machines, something that TMHA area sales manager Brad White and his service team are happy to assist with.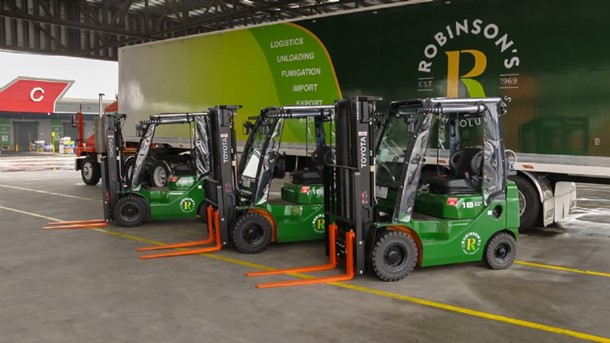 Robinson's rents its forklift fleet from TMHA, an arrangement that suits the business well given the amount of usage each machine gets around the markets.

"We sign on for five years at a time" Mr Robinson said.

TMHA offers on-site servicing at the Melbourne Market, which makes it particularly easy for Robinson's to go about their business with minimal disruptions and hassle.

"Robinson's Fresh Solutions rent them from Toyota so the preventative maintenance and servicing is included in what they pay," Mr White said.

"We have what we call a deluxe multi-function display on the forklift, and it alerts the operator when their next service is due.

"The service manager and senior technician out here have been here for 10 and 15 years, so they would have been at the old Footscray market as well, and we've got a service centre here which makes it so much easier for them to drop off their forklifts and service them during the day when they sleep, and then when we're sleeping at night they work the forklifts."

Mr White added that having an on-site servicing facility was useful for more than just vehicle maintenance, but also for any possible product queries that may arise.

"It's not just the servicing - if they've got any questions, they can ring up and we can pop down there, little things like that... it does make it handy so their operation doesn't have to stop, and it's a big operation."

Robinson's Fresh Solutions and TMHA have enjoy a strong working relationship  since Robinson first commissioned it's first Toyota forklift fleet back in 1998.

When asked whether he would recommend TMHA, Mr Robinson said popularity of Toyota forklifts in the Melbourne Markets told you everything you need to know about the performance of the product.

"Yeah, definitely," he said. "The results speak for themselves. Toyota is definitely the most used brand within the Melbourne Market."

Robinson's partnership with TMHA began back in 1998, when founder Eric Robinson - Mitchell's grandfather - was in the market for a machine, and borrowed a 7-Series forklift for a night.

He was particularly impressed with the operation, electronics and ergonomics of the machine, noting the attention to detail put into its development. Combined with the purchase and operating costs, the prospect was too good to turn down, and TMHA has been Robinson's sole supplier ever since.

Robinson's Fresh Solutions has steadily grown over the decades, starting out with roughly five employees, one truck and a hand trolley, delivering fresh produce to the markets.

Today Robinson's employs 45 people and provides unloading, transport, on-site storage and fumigation services for major wholesalers, retailers, growers and supermarkets.
For more information free-call 1800 425 438 or contact us, here.