ONLY TOYOTA FORKLIFTS WILL DO FOR NATIONWIDE TRAINING
Forklift safety business depends on superb reliability of Toyota forklifts.

A renowned Western Australian forklift and dangerous goods training company has used the fantastic reliability and safety of Toyota Material Handling Australia (TMHA) equipment to help grow its business.

Nationwide Training, based in the Perth suburb of Osborne Park, provides training courses and accreditation for businesses to do with forklift and order picker operation and dangerous goods handling and storage, among other workplace training.

For more than 10 years, Nationwide Training has depended on the superb reliability of Toyota forklifts to deliver its training courses, with the company using three Toyota forklifts to train workers.

For Nationwide Training CEO Gavin Trim, Toyota forklifts have stood out from the competition for as long as he has been using them.

"We'll go out to sites and they obviously have their own brands of machines as well, but even with all the different machines I've used, Toyota has been hands down the best machine," Mr Trim said.

"I've trained with many and sometimes you just scratch your head and think, 'why does this machine work like this when the Toyota is so easy?'"

Nationwide Training was formed by Mr Trim's parents, with the company starting out by leasing Toyota forklifts, however when the opportunity arose to purchase his own equipment, he jumped at the opportunity and is now the proud owner of two 8-series gas forklifts and a Toyota order picker.

"When I started managing the business mum and dad already had a Toyota forklift which we rented, and (the leasing company) were moving away from their Toyota contract, so I investigated TMHA through the company people and started leasing from them," Mr Trim said.

"Now we've purchased the machines, I'm a big believer in the product and I tell everyone how good they are. They're very reliable machines and the technology you get in them is really good."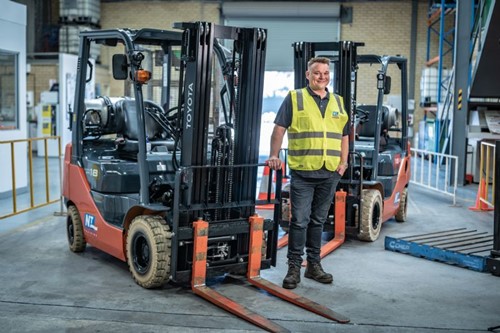 As a former Toyota automotive technician, Mr Trim is well versed in the mechanical excellence of the brand's products. And while the incredible durability of the machines is a clear selling point, the TMHA benefits do not stop there.

"There's lots about the machine I like - the reliability is fantastic." he said.

"The machine also has the System of Active Stability (SAS) which other manufacturers don't have. The new machine I got has even got a steering wheel indicator and mast leveling feature on it - the layout, design and ergonomics of the machine are great.

"People laugh at me because I love my machines so much!"

For Nationwide Training, another reason to stick with TMHA has been the excellent service and aftersales support offered by area sales manager Tony McGuire and his team.

Mr Trim said Nationwide Training prides itself on delivering high-quality training to corporate groups, which would not be possible without the machines running efficiently.

The service provided by Mr McGuire's team ensured that the operations run as smoothly as possible.

"Tony's always there to help me, he provides any support I need. When we finance the machines they've always been helpful there, when we needed a machine they've always been able to assist us and provide us with exactly the machine we need. They come up with all the service I need."

Mr McGuire said he was acutely aware of how important it is for any business to have their forklifts in prime working order.

"If the forklift doesn't start you lose a class, and he's got six or eight classes a day, you don't want to put them off to the next day or the day after because you're double-booking yourself."

A reputation for offering consistently excellent training programs has seen Nationwide Training develop a strong reputation in Perth, with employee training contracts from the likes of Australia Post, Bunnings, Government and Defence departments and various transport companies around the city.

With TMHA by its side, Nationwide Training hopes to continue providing top-tier training and accreditation for businesses long into the future. Mr Trim said the machines he invested in have been worth every penny.

"Not everyone wants to pay the money for a Toyota, but I'm sure that if they realised how good they are they'd soon have them as one of their first priorities to buy one," he said.

"Every time I've needed anything or wanted something or getting a new machine, things like that, they've always been there to support us and make things happen."


For more information free-call 1800 425 438 or contact us, here.