Budget Pet Products Goes From Strength To Strength With Help Of Toyota Forklifts
An online pet retailer based in South East Queensland has grown its business selling a broad range of affordable pet products, using the help of Toyota Material Handling Australia (TMHA) Toyota forklifts to make the most of its operations.
Budget Pet Products, based in Molendinar, started out selling pet products on eBay in 2009, with directors Karla Vandepol and Michael Chen starting out by running the operation from a garage.  
Since then, Budget Pet Products has grown to a team of over 120 employees and multiple warehouse locations, providing affordable products to pet owners around the country.
For the past four years Budget Pet Products has been a proud partner of TMHA, with Budget Pet Products reaching out to Toyota following dissatisfaction with its previous forklift supplier.
As well as providing excellent service with a focus on product reliability and durability, TMHA has assisted Budget Pet Products with its growth from a handful of employees to the nationwide operation it is today.
Budget Pet Products warehouse manager Cheryl Norvock said TMHA had proven to be an excellent partner through its growth period.
"They have made serving and providing parts so easy," Ms Norvock said. "Overall, the service has been great. One key difference is that TMHA has always partnered with us to help solve our growing pains."
Starting out with a single 2.5-tonne Toyota forklift, Budget Pet Products now proudly owns a mix of forklifts, order pickers and high lift pallet trucks.
Ms Norvock said the outstanding durability and reliability of the Toyota forklifts were stand-out factors, a sentiment echoed by TMHA area sales manager Chris Powell, who has worked closely with Budget Pet Products throughout their working relationship.
"They know what they're buying," Mr Powell said. "TMHA's value for money, it's always up there and you get what you pay for.
"The value equation over the life of the forklift combined with our service expertise makes TMHA a very attractive prospect."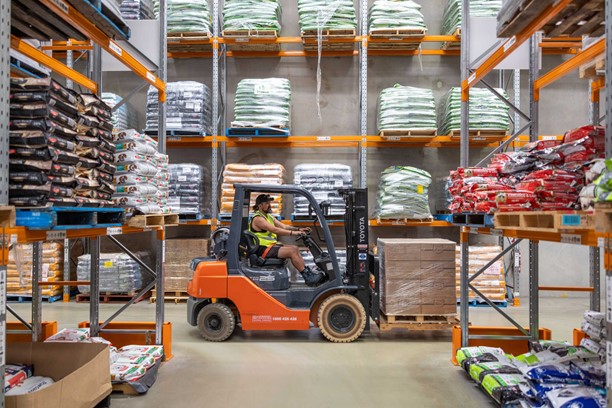 Excellent reliability has led to hassle-free servicing for Budget Pet Products.
"We've found the ideal balance of machinery features and service offering with TMHA – Our business is 24/7 with very little downtime – a machine with good features is nothing without the parts and service to back it up, and vice versa," Ms Norvock said.
"We've have had various machinery over the last 13 years and find the combination of reliable Toyota forklift features and great service to be superior all-round offering."
Any relationship between companies is only as strong as its people, and both Budget Pet Products and TMHA are quick to sing each other's praises with Ms Norvock calling the working relationship "excellent".
"We couldn't be happier with the sales and service team," she said.
Mr Powell was quick to return the praise.
 "In terms of customers they're always easy to deal with, negotiations are always simple and smooth," he said.
Overall they're a great customer to have."
When asked whether Budget Pet Products would recommend TMHA to others in the industry, Ms Norvock said that Toyota forklifts stood head and shoulders above its competitors in the market.
"We've have had various machinery over the last 13 years and find the combination of reliable Toyota features and great service to be superior all-round offering," she said.
"That's an easy (recommendation to make) – performance, durability, service, all of it. They have a superior service and product offering than their competitors."
Since its inception in 2009, Budget Pet Products has steadily grown its business by offering affordable products for a wide range of pets, from dogs and cats, to birds, fish, reptiles, and horses.
It has amassed over 350,000 customers and looks to continue to grow its burgeoning business.
For more information free-call 1800 425 438 or contact us, here.