BlackLab Solar Charges Up With Toyota Forklifts
A small New South Wales-based solar energy specialist has turned to the class-leading reliability and safety of Toyota Material Handling Australia (TMHA) forklifts to help his burgeoning business.

BlackLab Solar, based in Rylstone in central NSW, is run by owner and licenced electrician Paul Deegan and specialises in high-quality solar installation and maintenance.

Mr Deegan essentially does all of BlackLab's installation, maintenance and ordering himself - a big enough job on its own, let alone when it's being done without the right equipment.

After operating for a few years using an older diesel forklift bought from a neighbouring farmer, Mr Deegan made the choice to upgrade and purchase a new machine.

A former pilot, Mr Deegan was using his hangar at Rylstone to store solar equipment following a period of heavy rain and needed a forklift that was ideal for indoor operation.

After looking at a couple of options, he quickly settled on a Toyota 8FBE20 electric forklift, with the material quality of Toyota products a big reason for purchase.

"This new one's been an absolute delight, it's fantastic," Mr Deegan said. "I wasn't price-driven, I just wanted the best.

"Compared to the old one it's a precision machine. You move a lever and it moves exactly. It's just great.

"Every time I get on it I just think "how good is this", because in the old days starting the business I was in Sydney and I had my kids hand-loading the solar panels, and now I'll lift six pallets off a truck and it's done in 15 minutes."

Being an expert in battery and energy storage technology, Mr Deegan was impressed by the batteries used in the Toyota forklift and the fact that he can run the machine inside his hangar without worrying about exhaust fumes.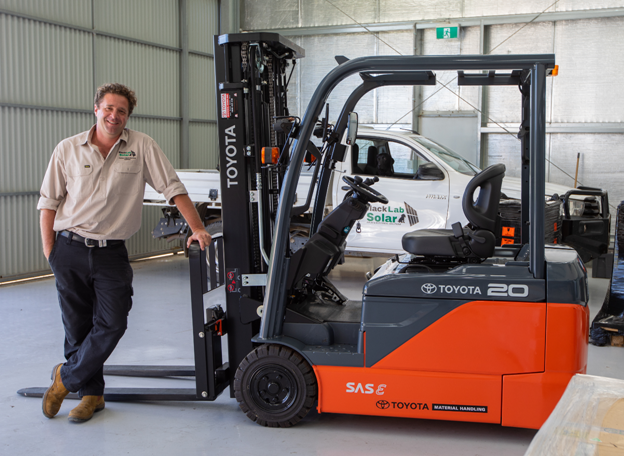 Mr Deegan has outfitted his hangar with a comprehensive solar arrangement that allows the structure to exist off-grid, with all power for the building sourced through solar power.

That means his Toyota forklift essentially exists with zero carbon footprint, due to all charging being done on-site with electricity sourced exclusively through solar power.

Mr Deegan has now owned his Toyota forklift for approximately one year, and has been impressed by its precise performance and faultless reliability.

He also spoke highly of his relationship with TMHA and area sales manager Richard Bopping, who has helped to make the ownership experience as seamless as possible.

Mr Deegan said there were no current plans to expand the BlackLab business, but if he needed any new equipment, TMHA would be his first port of call regardless of product.

A qualified electrician for 20 years, Mr Deegan started BlackLab Solar after working as both an electrician and pilot based out of Rylstone, including with the Royal Flying Doctor's Service.

After flying planes for around 10 years, Mr Deegan re-entered the electrical industry with an emphasis on solar installation and ongoing service and maintenance, gaining qualification for solar, off-grid and hybrid installations.

The company has an emphasis on producing solar installations of the highest quality, referencing the Benjamin Franklin quote: "The bitterness of poor quality remains long after the sweetness of low price is forgotten."

With the business placing such an emphasis on high build quality, it is no surprise that Mr Deegan gravitated towards TMHA, with impeccable reliability and durability a key tenet of the brand's philosophy.

Toyota 8FBE battery electric forklifts have the latest control technology, coupled with an ergonomically designed operator compartment.

Outstanding energy efficiency has been achieved with new motors and drivers, to improve operating time by 20 per cent compared to the previous model.

Key safety features include Toyota's System of Active Stability, to reduce the risk of tip-overs, and Active Mast Function Controller to limit mast angle and forklift speed according to load height and weight.

Despite being a big investment for a small business, Mr Deegan's forklift has been a great purchase for BlackLab Solar, helping him stay on top of logistics in the warehouse.

"It's made a huge difference - I'm 43 years old and I'm almost single-handedly running a million-dollar business," he said.

"And having that machine, knowing I can jump on it, get the panels in the back of a truck in 10 minutes and I know the thing is going to start - I know it appeals to someone like me."
For more information free-call 1800 425 438 or contact us, here.