BEGA OPTIMISES OPERATIONS WITH TOYOTA AGVS
As the needs of the modern warehouse continually evolve, automated materials handling equipment is in ever-higher demand. Fortunately, Toyota Material Handling Australia (TMHA) has several different automated solutions to keep the warehouses of today and tomorrow running smoothly.
Neil Beveridge, Product Manager – Automation at Toyota Material Handling Australia explains the advantages of Toyota's range of automated guided vehicles, and – together with Nicholas Adams, Network Operations Manager at Bega Cheese Limited – the various ways in which implementing Toyota AGVs improved one of Bega Dairy and Drinks' most important production sites.
TOYOTA RAE AUTOPILOT
One particular vehicle in which Neil sees growing interest among customers is the RAE Autopilot Reach Forklift. "One of the key benefits of this forklift, is that it is a hybrid manual/automated forklift.
It can be used in either fashion," Neil says. The RAE Autopilot looks and feels like a regular Toyota reach forklift, giving operators a sense of familiarity when they work with it for the first time. "We have found that sometimes operators are overwhelmed by automation," Neil says.
"Sometimes they are expected to learn a completely new system when working with an autonomous forklift. A major benefit of this forklift is that its features and general look are similar to that of a manual forklift."
A further benefit of investing in a hybrid forklift becomes apparent if an operator comes across non-conforming pallets or loads. Usually this would present a problem for an entirely automated forklift – as it may not be able to handle them, resulting in a delay in operations. However, with the Toyota RAE Autopilot Reach Forklift, operators can override the system and step in when needed.
"There's greater flexibility with a forklift like this. You can troubleshoot and solve errors in a very timely manner by switching to manual if needed," Neil says. The RAE Autopilot provides the opportunity to run a 24/7 operation, something which Neil says we will see more of as demand for e-commerce and online shopping continues to increase. "A lot of facilities are running eight to 12 hours a day," he says. "Within these shifts you see huge peaks in demand and volume. With automation, you can run operations 24 hours a day, seven days a week. This way you can flatten out your capacity so that you can get very consistent throughput levels. This makes it much easier to plan and predict the activities and capacity throughout your DC."
Furthermore, the RAE offers safety benefits. "The forklifts have a personal protective system, enabling 360-degree personnel protection. They feature safety sensors that help detect people moving around the vehicle, thereby improving safety." 
Compared to relying on a human reaction to stop or manoeuvre a forklift, the automated safety sensors offer a higher level of accuracy. The forklifts also all have the ability to connect with each other – and know at all times where they're positioned in relation to each other – mitigating the risk of a collision.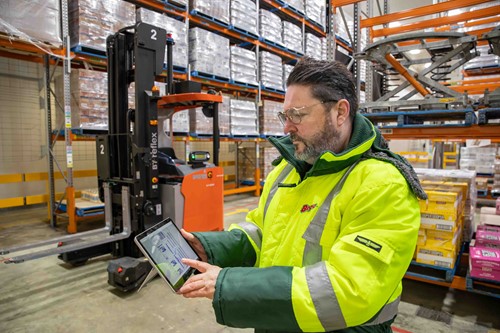 PERFECT FOR A POST-COVID WORLD
The RAE Autopilot Reach Forklift requires minimal supervision. This means that while we continue to practise social distancing the site can remain fully operational. "This automated solution doesn't require a large amount of labour in a tight space, you can control the system with minimal staff who are spread out," Neil explains.

As we move to a new norm post-COVID-19, Neil says that automation will play a huge role in warehousing and logistics operations. 
This forklift is ideal for those looking for a first entry into automation, or those who have already introduced some level of automation, he says.
"Whether you are looking at implementing AGV style automation, or large-scale mechanised systems, they all complement each other," Neil says. "The Toyota RAE Reach Forklift is versatile and flexible – so plays a crucial role in any sophisticated operation looking for efficiency, safety and productivity gains."
The Toyota RAE Autopilot Reach Forklift comes in three different models: 1.6 tonne, 2 tonne and 2.5 tonne, and can lift to a height of 10 metres.
TOYOTA OAE120CB AUTOPILOT
Toyota's modern Automated Guided Vehicle (AGV) offerings all work off the same navigation system, have hybrid capability, and sport market-leading safety features.

"The OAE was one of our original vehicles released in Australia, back in 2016," Neil says. "Its primary application is in production environments and for ground floor transport, rather than warehousing and high bay racking. It's a great complement for end-of-line production – staging for trucks and anything to do with ground floor work up to a certain height."
He notes that the OAE is a "very universal vehicle". "It's a counterbalance forklift that can basically handle any load or any format of load – whether it be bottom-boarded pallets, cages, and so forth. It is essentially a normal warehouse counterbalance forklift, but with manual or automated hybrid functionality – and the safety functions and reliability that are the hallmark of all TMHA's range."
TOYOTA SAE160 AUTOPILOT
"The SAE160 Autopilot forklift is a stacker unit designed to handle European-style pallets," Neil says.  "But we also offer the forklift in a straddle format with outrigger legs that can also handle Australian style pallets with bottom-boards. Compared to the OAE, it has a greater lifting capacity. It's a great product for tighter spaces. Being a smaller footprint vehicle, it's got a tighter turning circle than other  options."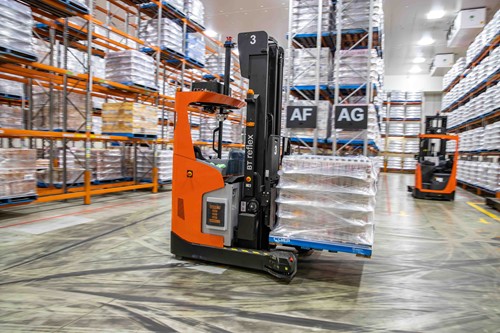 BEGA AUTOMATES MAJOR OPERATION WITH TOYOTA AGVS
Bega Cheese has long been a household name, and its subsidiary Bega Dairy and Drinks – which manufactures and distributes iconic products like Dare Iced Coffee and Big M – recently completely overhauled its materials handling equipment at its Wetherill Park manufacturing site, introducing a fleet of Toyota AGVs.

Nicholas Adams, Network Operations Manager at Bega Cheese Limited, says that the Wetherill Park facility distributes products to its major DC in Chullora and serves markets including Coles and Woolworths – among many others – up and down the east coast.
"We send out about 20 B-double loads per day all around Australia," says Nicholas. "We're probably picking around 1.5 million litres a week."
With such vast quantities of product moving out of the facility, seamless operation of materials handling equipment is a paramount consideration. That's why Bega Dairy and Drinks has long used Toyota forklifts in its manufacturing operation and – when the decision was made to convert from an entirely manual fleet to an automated fleet – they again went with Toyota, having always been impressed by the quality of product and service.

"Because we're a manufacturing site, and shelf life is very important for our dairy products, it's critical for us to get the product out the door as quickly as possible," Nicholas says. "We don't tend to hold on to products – they're made and then sent straight out to market. That means that a lot of what we're sending out is on full pallets. The proposition of introducing Toyota AGVs into Wetherill Park seemed a great value creation opportunity for us in terms of improving safety, helping our people, quality control, and cost savings."

In particular, Nicholas singles out how Toyota AGVs contribute to a safer work environment by virtue of such features as object collision detection, cameras, lasers, and warning lights. Using the forklifts nearly-always in their automated capacity also allowed for improved pedestrian segregation.
 
But Nicholas also points out that growing the technological sophistication of the work environment provided an opportunity for Bega workers to grow and learn with new technology. "It was also an opportunity for us to develop our staff with new skill sets. To get them to learn about new technology and be able to train them up to be 'super users' – people that can really continue to drive technology through the business and understand it at a deeper level."

And while 'reliability' has always been a hallmark of Toyota products, Nicholas notes that for Bega the introduction of Toyota AGVs delivered a greater level of reliability than ever before.

"AGVs provide us an even higher level of reliability than ever before; Toyota AGVs very rarely have any issues," he says. "Part of moving to automated material handling equipment is a massive reduction in  human error, which can of course exert considerable wear and tear on a machine over time. But the Toyota advantage of having hybrid manual/ automation dual use means that if the automated function does run into an issue, you can still operate it in manual mode. So, we get a great level of reliability and operational certainty day-to-day with our Toyota AGVs."

Neil adds to Nicholas's comments by pointing out a further reliability advantage that attaches to Toyota's AGVs.

"I think one of Toyota's biggest advantages is not only having our hybrid offering, but the fact that the vehicles are actually based off their manual counterparts," he says. "That means essentially all the R&D that's been put into manual forklifts comes straight across to our automated equipment – so you still get the benefit of all that accumulated knowledge and experience in the build of the vehicle. On top of that, because 90 to 95 per cent of the components of the AGVs are shared with our traditional range of manual forklifts, our TMHA service and repair team is ready to go to work on manual forklifts or AGVs, and has ready access to spare components.

"This means that switching from manual forklifts to Toyota AGVs is a seamless transition. Workers are still working with the same forklifts they're familiar with, but now there's an automated function that helps them work more productively and builds their skillset. And there's no need to bring on a new tech team to deal with AGVs – maintaining trusted working relationships between TMHA service teams and their customers."

Nicholas concludes by adding that working with the TMHA team further cemented the ease of the transition. 

"To be honest there was a bit of back-and-forth on our end in the early stages of the project," he says. "But once we were clear in our decision to proceed, it was really a pretty quick process. Not only did Neil and his team meet the project timeline, but they were very supportive of us when we had to change our own timelines.

TMHA made it really easy to run the project. They were very supportive, very accommodating, and very reliable." 


View our automation range, here.

This article was first printed in the April edition of MHD Supply Chain Solutions