Trim And Terrific With Toyota Forklifts
A Western Australia motor trimming business has regularly grown its exclusively Toyota Material Handling forklift fleet as it commensurately expanded over the last decade.

Modern Motor Trimmers, located in the south-eastern Perth suburb of Welshpool, started out in general trimming and the restoration of vehicle seats, later becoming the exclusive Western Australia agent for ISRI premium driver seats.

It purchased its first Toyota forklift, a 1.8 tonne gas-powered 32-8FG18, a decade ago, after identifying a need for specialised seating and refurbishment in the mining and construction sectors.

Modern Motor Trimmers owner, Garry Spouge, said seating sales comprise around half of his business with the other half specialising in trimming the cabins from large machinery such as from the mining sector. "Those vehicles get a very hard life and routinely need refurbishment," said Mr Spouge.
"We take underground and above-ground mining cabins, for example, and refurbish them. We receive them already welded-up and painted, with nothing in them, and we apply sound-deadening material such as foam and panels. Then we upholster them by cutting perforated material, folding it and gluing it into place to make it comfortable and pretty."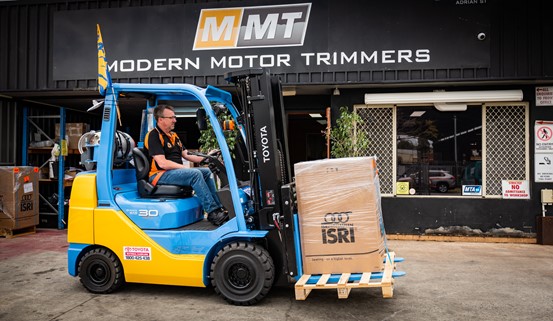 Such specialised work required the addition of several new Toyota machines, the most recent of which is a Toyota 32-8FG30 3-tonne compact forklift, which Toyota Material Handling Australia (TMHA) WA area sales manager, Tony McGuire, said was chosen for its increased capacity compared with the business' ageing 1.8-tonne Toyota forklift.

"As Garry's business became bigger, he incrementally added more of our equipment to his fleet," said Mr McGuire. "When he branched into overhauling cab bodies from dump trucks, he needed a forklift with more capacity. We took a look at what he was doing and recommended a forklift with more capacity, so he now has a compact 3.0-tonne 32-8FGK30 dual fuel gas/petrol with a side-shifting fork positioner and a deluxe multi-function display with weight gauge.

"This is in addition to his battery-powered 8FBRE16S Toyota reach truck and TMHA Sprint picker platform."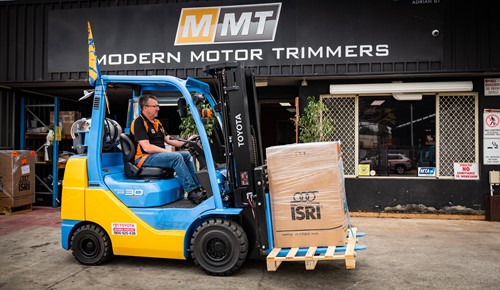 Modern Motor Trimmers' Garry Spouge said TMHA was on hand when the business needed to up-spec its fleet. "When we got into the heavy machinery cab-lining business, we needed different and more capacity machines that could reach the cabins and work comfortably and safely at height," said Mr Spouge.

"Our rep Tony McGuire came around and had a good look at how we were operating and made suggestions based on our main duties as to what Toyota equipment would be most appropriate and efficient to help us improve our output. For example, we have shorter tynes on the new forklift and an attachment that assists in moving different sized and shaped objects around. We also have a load weight indicator which we use to determine the weight of the load on the tynes against the forklift load plate.

"Tony really helped us understand the forklifts so we have peace-of-mind knowing we have the right equipment for the job."

Mr Spouge said several reasons led him to choose Toyota Material Handling equipment over other brands, including pre-existing business relationships, experience with Toyota motor vehicles and TMHA's reputation for reliability.

"We go way back with Toyota and they are even a customer of ours. In the earlier days of their Huski skid steer loaders, about 20 years ago, we used to help them with foam sound deadening treatments. The Huski cabs have changed quite a bit since then and we don't do that anymore, but we still supply clear side-linings for Toyota forklifts, which protect operators from rain and wind.

"Our clear curtains differ to others on the market in that they are made from a thicker PVC material that lasts longer and holds better in place. It doesn't turn into 'liquorice' when the weather turns hot, which it does extremely here in WA.

"We were at Toyota Material Handling in Perth with our clear curtains just the other day. It's nice to have a rounded relationship whereby we are suppliers to each other."

Mr Spouge's experience with Toyota passenger vehicles also helped make the step over to Toyota Material Handling equipment an easy one. "I've had many Toyota vehicles over the years and they have proven to be reliable and last the distance. I've had a LandCruiser and I've just ordered another one.

"I've had other Toyota models and have five HiLuxes in our work fleet at the moment. Toyota's vehicle performance gave me confidence to invest in Toyota material handling equipment. They make arguably the best affordable cars that last the distance and I expected the same would extend to their other machinery. We were already supplying Toyota Material Handling as a customer so it made sense to further cement our business with them."

TMHA's Tony McGuire said Toyota's well-known reputation for safety, reliability and longevity played heavily into Mr Spouge's into his choice of handling equipment: "Definitely the reliability was a major reason for Garry - he's got a proven track-record with us," he said. ". His machines are reliable and just keep on going and that's the way he likes it. His guys get on them in the morning and off they go."

Mr McGuire said this reputation is at the core of TMHA's value proposition. "We at TMHA call it QDR which stands for quality, reliability and durability. This is a key tenet of our Toyota Advantage and is an important selling-point for our customers."

In a personal touch, Mr McGuire has arranged for Modern Motor Trimmers' forklifts to be custom-painted. The business' first 1.8-tonne forklift was painted in black as a nod to Mr Spouge's New Zealand heritage and his [then] company colours. The latest 3.0-tonne forklift bears the blue and yellow colours of his favourite AFL team, The West Coast Eagles.

Such attention-to-detail is reflective of the fruitful past and ongoing relationship between Toyota and Modern Motor Trimmers, one that Mr Spouge expects to continue well into the future. "Our business with each other goes a long way back. Toyota has been a big part of our journey," he said. "They have simply been the best for us, I can say that wholeheartedly, and we'll be sticking with Toyota as long as we're around."

Such plans include adding two new TMHA lift platforms and some sweepers to the fleet when it moves to a new specialised factory.
For more information free call 1800 425 438 or visit toyotamaterialhandling.com.au