Toyota Material Handling Australia Proud To Support Canberra Raiders' Women In League Round
Toyota Material Handling Australia and their Toyota Forklifts brand are proud to unveil the Canberra Raiders' 2021 Women in League jersey.
The Canberra Raiders will wear the jersey when the club travel to AAMI Park to take on the Melbourne Storm for Women in League round. The round 22 match will take place on Thursday, 12th August with kick-off at 7.50pm.
The design features over 1000 names of women who contribute immensely to rugby league as part of the Raiders Valkyrie Program.
The Valkyrie Program has been implemented at the club since 2018 and helps women get involved, included and influence rugby league at the Raiders and wider region. This includes Raiders members, fans, staff, players in the local competitions and Tarsha Gale Cup side, as well as player's partners and family.
The following message has been incorporated into the Women In League jersey design -"We are members, fans and family. We are participants in our local football and social clubs. We are development and representative players. We are Raiders support personnel and health professionals. We are administrators. We are part of our network, sponsors, charities and community groups. We are part of the Valkyrie Program. We are included. We are respected. We are Raiders family. We are Women in League."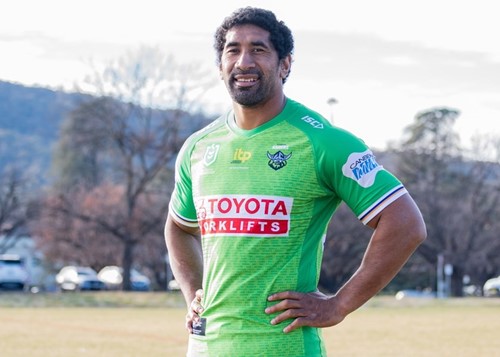 Raiders sponsor Toyota Material Handling Australia and their Toyota Forklifts also have the names of their female staff on the jersey which CEO Steve Takacs is proud of.
"Toyota Material Handling Australia and our brands of Toyota Forklifts and Huski Construction Equipment aim to promote diversity and inclusion as a core value," Takacs said. "We are proud to be associated with supporting Women in League."
Feedback from the Raiders players themselves has also been very positive.
Raiders forward Sia Soliola said he was very proud to be wearing the jersey and representing the women who make playing the game possible.
"We can see how much of an impact women have in our game," Soliola said. "We have board members like Katrina Fanning, she's a great example of a woman in rugby league who has not only done good stuff for women but also the Indigenous communities as well.
"It's great that we can acknowledge all the ladies in the game that make a big impact.
"We've highlighted here in Canberra the growth in the women's game such as the Tarsha Gale Cup squads have really grown in numbers. That's a really big factor for us as a club to really acknowledge that and aim for NRLW. It's really amazing what women are doing in the game."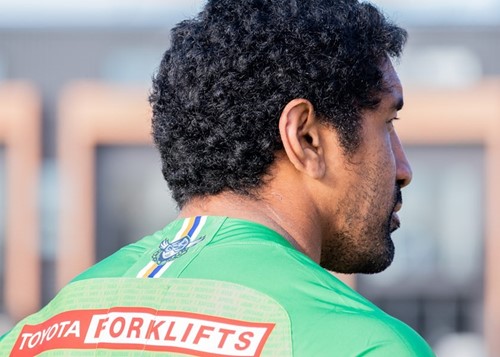 Soliola was also excited to wear the jersey which features his wife, Gemmah.
"It's pretty special because we all go through our journeys," Soliola said. "We all get acknowledged for the hard work we put in but you never necessarily see all the sacrifices that our partners and the women in our lives do for us."
Sia Soliola's wife Gemmah is one of hundreds of women represented on the jersey
Raiders staff member Stephanie Backer was also pleased to see the invaluable work of women in and around the club recognised.
"I thoroughly enjoy coming into work each and every day to promote rugby league and the Raiders," Backer said. "It is great getting to collaborate with and learn from many female professionals who are experts in their fields.
"It's really exciting to see the expansion of the NRLW this season. Many women and men are working hard behind the scenes to make this a reality for the Raiders in the near future. I can't wait to see our members and fans get behind the women in green."