Toyota Forklifts Meeting Grape Expectations
An iconic Hunter Valley winery is crushing its workload during the busiest time of year with a fleet of exclusively Toyota forklifts.

Brokenwood Wines in Pokolbin, New South Wales, recently acquired a new Toyota 8FGJ35 3.5-tonne capacity forklift to accompany two 2.5-tonne 8FG25 forklifts in coping with its peak season, when grapes are harvested and processed for the year's vintage.

As 11-year Brokenwood veteran, senior winemaker Stuart Hordern explained, vintage in the Hunter Valley occurs early in the year and requires all hands (and all handling equipment) 'on deck' to handle the rush.

"We do the vast majority of our work in a 2.5-month period every year," said Mr Hordern. "For example our new 3.5-tonne Toyota forklift does probably 80 percent of its annual work within just that window, so equipment failure just isn't an option for us. It's crucial that we can depend on our forklifts during vintage."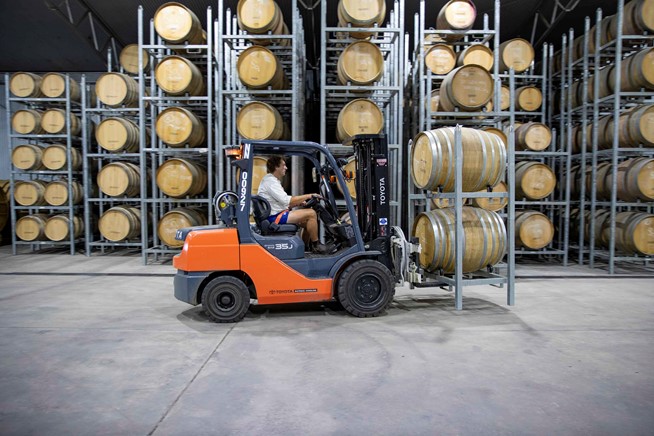 Brokenwood Wines was founded as a small boutique winery in 1970 and over the last 50 years has grown into a well-recognised and regarded winery in Australia, and internationally. It is particularly famed for its Graveyard Vineyard shiraz which was named Australian wine of the year in the James Halliday 2021 Wine Companion.

Brokenwood Wines made the shift to Toyota forklifts after an extensive relationship with Toyota Material Handling Australia (TMHA) area sales manager, Allan Peacock, who has been involved with and supplying forklifts to the Hunter wine industry for over 25 years.

"I have known the Brokenwood vineyard teams, including Stuart, for a long time and call in on them from time-to-time for a friendly conversation," said Mr Peacock.

"So when it came time for Brokenwood to replace an old fleet of forklifts I had a site appraisal with Stuart to evaluate their latest needs and recommend Toyota equipment that is most-appropriate for their business.

Brokenwood's Stuart Hordern agreed that TMHA was able to understand the winery's work processes and that this led to specifying several differently configured Toyota forklifts.

"As a winemaker I have a lot to do with overall organisation, including purchasing and procurement, so I am very hands-on," said Mr Hordern. "I think it's fair to say Allan tailored our forklifts to the needs of our business, for sure.

"We were interested in what he was able to bring to the table after analysing the latest workings of our business. The suggestions he made included considerations such as capacity, safety and efficiency.

"We examined forklifts from several different brands and ultimately Toyota was selected. Our operators' opinions after trialling them also influenced the final decision."

A key innovation for the winery was the addition of a specialised attachment for its new Toyota 8FGJ35 forklift, which is the main 'workhorse' during vintage.

A Cascade 360-degree rotator with hydraulic fork positioning can be adjusted from the operator's seat without the need for time-consuming manual adjustment - greatly increasing productivity when handling different-sized objects such as grape bins.

"The rotator head really streamlines our workflow," said Mr Hordern. "It easily allows us to tip 500-kilogram bins of grapes into our fruit receiver, and also tip red wine fermenters.

"When the big Toyota forklift isn't flat-out during vintage, we can use it for other general warehousing duties such as moving barrels, unloading trucks and racks, packing and stacking."

The performance of Brokenwood Wines' Toyota 8FG25 2.5-tonne forklifts, acquired in 2014 as a 60-month fully maintained rental greatly influenced the decision to add the more recent 3.5-tonne 8FGJ35.

"These two original units have since been rolled over for an additional 24-month rental period and that goes to show the longevity and reliability of the Toyota Forklifts," said TMHA's Allan Peacock.

"That we acquired our larger 3.5-tonne Toyota forklift late last year speaks volumes for the first two older machines," said Mr Hordern. "We started out with the two smaller Toyota forklifts and in the six years or so we've had them, they have proven to be highly dependable.

"We haven't had any problems. They simply keep-on going. Their quality and reliability has been fantastic.

"We know we can rely on them to perform, which is what we need in this business - especially during crunch- time - and this gave us plenty of faith in our newest larger Toyota forklift, which has so far performed with similar durability.

"We at Toyota have a very refined production system that ensures high-quality machines. So when you buy one of our forklifts you know it's a reliable machine.

Brokenwood Wines has specified a Toyota Deluxe Pack option for all its Toyota forklifts which benefit from their EFI engines being fitted with a three-way catalytic converter to reduce emissions.

Brokenwood's Mr Hordern said sustainability is a primary concern for the winery and a low-emission option best suited the winery's enclosed and temperature-controlled areas, and also from an operator health and safety perspective.

"Our forklifts and operators work in sensitive environments so having an option for lower emissions was highly appealing to us given our strong interest in sustainability," said Mr Hordern.

Safety features from the Deluxe Pack include speed limiting Load and Travel Handling controls in addition to standard System Of Active Stability (SAS) forklift stability control.

"I can't speak for all Winemakers but there seems to be a wide acceptance of Toyota forklifts in the Hunter Valley. You certainly see a lot of them around - us included - and we won't be changing that any time soon." Mr Hordern said.