Toyota Forklifts Help to Raise the Bars

A Western Australian company creating free-standing backyard playground equipment has taken its business to new heights with the help of its Toyota Material Handling Australia products.

Perth-based business Funky Monkey Bars, makers of free-standing backyard playground equipment, have enlisted the help of Toyota Material Handling Australia (TMHA) to grow their expanding business.

Operating a recently opened showroom in Fremantle and a manufacturing hub in the Perth suburb of Yangebup, the range of locally constructed Funky Monkey Bars play sets have resonated with customers, particularly during the pandemic, where play at home is more relevant than ever.

With its recent growth, Funky Monkey Bars needed additional warehouse machinery, and the key pillars of Toyota Material Handling Australia (TMHA) products - iconic reliability, world-leading safety and more uptime- ensured that Toyota was at the top of the list when the time came for a new purchase.

Having recently bought two Toyota 32-8FG25 forklifts, one 32-8FGJ35 forklift and one RRE160H reach forklift with 7000mm lift height, Funky Monkey Bars Director Colin Burdle said that with around 70 per cent of its business done through online sales, the performance of its warehouse equipment was vital to the success of the business.

"We need equipment that's fit for purpose and won't let us down, and we've had nothing but really good feedback on our TMHA equipment," he said.

"The whole business is reliant on loading and unloading, moving stock, moving containers, unloading containers to loading vehicles, to unloading steel lorries, it's the full lot, so our forklifts play a very important role."

Another reason why the TMHA forklifts have been well received has been the dual-fuel capability, with Funky Monkey Bars able to run their forklifts for longer by alternating between petrol and gas power, helping to save time otherwise taken by repeated refuelling.

"The dual-fuel we can click over from petrol to gas, we've got a couple of big workshops here, and quite a big distance between them," said Mr Burdle. "That's a great function for me, that's made a massive difference for us not having to drag gas cylinders all over the workshop."

Mr Burdle added that Manufacturing Manager Glenn Brittain's experience with TMHA equipment at a previous workplace meant that when the time came to buy new forklifts, Toyota was the clear choice.

"Glenn had other forklifts at the last place he worked at, and was recommended buying Toyota forklifts and he never looked back," Mr Brittain said.

"He absolutely loved them, they're really good machines - easy to operate, easy to run, everything is at your fingertips, everything just works.

"When we were looking at buying new machines, he recommended Toyota straight away, and showed the products to myself and Shane [Roberts, Director], we loved all the safety systems, it was just a no-brainer virtually," he said.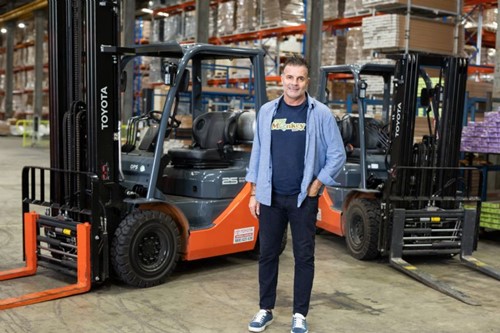 TMHA area sales manager Danny Carbery also played a pivotal role in securing the sale, providing two separate product demonstrations and conducting site visits to display the multiple advantages of Toyota equipment, which helped convince Funky Monkey Bars that Toyota forklifts are the best in the business.

The recently purchased forklifts include Toyota's newest Gen II products, offering valuable features such as a digital weight gauge, steering angle indicator and tilt-angle indicator projected via the dash display - read-outs that are valuable for the operation of the Funky Monkey Bars business.

The new features form just one facet of the Toyota Advantage, with a dedication to safety, which also includes the pioneering System of Active Stability (SAS) that helps to protect workers and products alike by making thousands of calculations per second to ensure advanced load-handling performance and safety.

"I like the fact that all the weights are easy to see, whereas before we had a hydraulic-type system and you had to hold a button to view the weights, but now all this detail is just given to you straight away," Mr Burdle said.

Legendary Toyota reliability has been another important factor in Funky Monkey Bars making the switch to TMHA, with Mr Burdle noting that the forklifts previously used by the business were proving costly due to consistent need for repair and servicing.

Funky Monkey Bars have sung the praises of Mr Carbery, who helped facilitate the easy sale of the new equipment.

Mr Carbery said TMHA's impeccable reputation and superior servicing, all part of the Toyota Advantage, were significant factors in the company changing its forklift supplier.

"The performance of our equipment meant that it was an easy decision to bring more on board at Funky Monkey Bars," Mr Carbery said.

"The new TMHA equipment has been received extremely well by warehouse staff and front office alike, allowing them to pick, pack and deliver quickly and efficiently to support their growing business."

Capitalising on the reality of families spending more time at home, Funky Monkey Bars has seen its business grow throughout the COVID-19 pandemic.

With a greater reliance on freight loading to dispatch orders around the country and even internationally, Director Shane Roberts said the company needed to expand its forklift fleet - resulting in the adoption of its TMHA equipment.

"We need to load lots for our orders, and our increased results in an increase in all our operations, hence the reason the fleet of forklifts has grown because our business is growing," Mr Roberts said.

With the business showing no signs of slowing down, there may come a time where Funky Monkey Bars will need to expand further. The resounding opinion from the company is that when the time comes for new products, TMHA will be the first supplier they call.


For more information free-call 1800 425 438 or contact us, here.