TOYOTA ELECTRIC PALLET JACK PROMOTION PROVES 'CATCH OF THE DAY' FOR ENDEAVOUR FOODS
A Western Australian seafood distributor has reeled in arguably its biggest catch to date, after being announced as the winner of the Toyota Material Handling Australia (TMHA) "Stacks & Jacks" promotion.
Perth-based Endeavour Foods was chosen as the lucky winner of the nationwide "Stacks & Jacks" competition, which allows entrants to win the purchase price of any new Toyota walkie stacker or electric pallet jack, up to the value of $15,000, purchased between June and August 2021.
According to Endeavour Foods Operations Manager Lloyd Wright, the seafood wholesaler had been a TMHA customer for around six years before the company made its most recent purchase, an Toyota LWE180 powered pallet jack.
Mr Wright said that after making the switch to Toyota from their previous forklift supplier many years ago, Endeavour Foods has never looked back.
"After experiencing a few challenges with our previous forklift supplier, we had a look around at some other companies. Toyota, was the first company I spoke to and they seemed to talk the right language. Subsequently, we made the switch. Our relationship has been strong ever since." said Mr Wright.
Legendary reliability and ease of servicing and repairs are key pillars of the Toyota Advantage – important factors in helping Mr Wright make the switch for Endeavour Foods.
"They're reliable, they offer good customer service – you can have a breakdown and they'll be prompt getting help out to you," he said.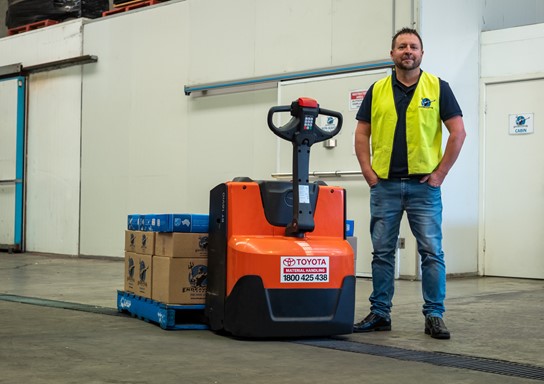 "We're a relatively small business and if one of our machines goes down, we pretty much stop work. Toyota understands this and get out as soon as they can to rectify any issues."
Playing a big part in helping to provide excellent customer service is TMHA Area Sales Manager Danny Carbery, who noted that the reliability of TMHA forklifts, and therefore the stronger return on investment, was a crucial factor in earning Endeavour Foods' business.
"I truly believe that our equipment is better-built and made with superior quality components, therefore they tend to be able to deal with harsh environments a little better than the others," Mr Carbery said.
"They want to get good value for their investment, and I think that's probably got a fair bit to do with their mindset."
The winner of the Stacks & Jacks competition was drawn at random, and it fell to Mr Carbery to deliver the good news to Endeavour Foods.
"It was quite a surprise to win something that large, being Australia-wide," said Mr Wright.
"John, my boss, was rapt. You tend to have a lot of downfalls within the year and obviously COVID had an impact, so to get the prize is great."
Mr Wright said that as a supplier of seafood to cafes, restaurants and hotels, the initial impact of COVID was significant on Endeavour Foods, with 75 per cent of its business disappearing overnight as WA entered their first lockdown.
It was able to maintain some solid business, by switching their focus to retail consumers, as they improved their supply to booming fishmongers and butchers and offered a home delivery service to those in need. Western Australia has largely kept the virus out of the state since, and Endeavour Foods has seen very good growth in the past 12 months, going from strength to strength.
Whether the prize money goes towards more equipment, other business investments or a ripping Christmas party, winning the TMHA "Stacks & Jacks" promotion has ensured that the biggest catch Endeavour Foods made in 2021 was never actually out at sea.
Click here to find out more about our current product offers.