FAMILY-OWNED AUSSIE BUSINESS CLEANS UP WITH HELP OF TOYOTA FORKLIFTS
Edgar Edmondson calls on Toyota Forklift reliability to navigate pandemic-influenced market.

A family-owned producer of commercial cleaning products has managed to navigate difficult COVID-influenced conditions with the help of the class-leading reliability of Toyota Material Handling Australia (TMHA) equipment.

One constant has been the reliability and ease of use of its Toyota forklift equipment, namely a new Toyota Reflex RRE.M Reach Forklift and a pair of Toyota OSE100 Low Level Order Picker Forklifts delivered by TMHA in September.

The new equipment expands Edgar Edmondson's fleet of Toyota forklifts to roughly 14, with the company's National Operations Manager Richard Edmondson explaining that Edgar Edmondson's connection to Toyota Material Handling goes back further than most.

"We got one of the first Toyota forklifts in Australia, second hand from another Marrickville warehouse. It was one of the first forklifts into the country in the 70s. That was our first forklift," Mr Edmondson said.

Mr Edmondson pointed to the incredible durability and reliability of the Toyota forklifts as key reasons for remaining loyal to the brand, both fundamental ingredients to the Toyota Advantage.

"Reliability is the number one priority for us. If you have a forklift down for a day, that's the equivalent to losing $20,000 in sales on that picking day, and we have very few days where a forklift is not operating at full capacity."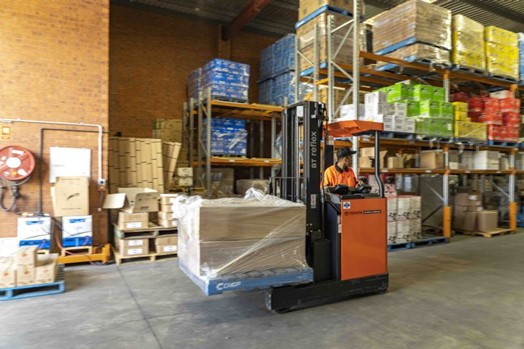 "It's an exceedingly harsh environment for forklifts to be operating in, usually they like to operate in very flat, smooth warehouses, and these guys don't skip a beat.

"If they were a lot of other brands, they'd probably break down every second day, but these don't break down. I've got nothing but positive things to say about TMHA products."

The new Toyota forklifts offer Edgar Edmondson sustainable, and emission-free performance, with its battery-electric powertrains providing a quieter working environment for warehouse staff.

In particular, the new Toyota forklifts were chosen thanks to the particularly tight turning circle of the forklifts, which have helped maximise space in one of Edgar Edmondson's warehouses.
Edgar Edmondson recently acquired a competitor and subsequently refurbished its warehouse, with the nimble agility of the TMHA equipment helping to turn what would be 50 to 60 picking bays into 180 picking bays, effectively tripling the efficiency of the warehouse.
The pandemic has proven a challenge for Edgar Edmondson, with one part of its business - servicing hotels and the hospitality industry - effectively drying up, while the other - cleaning products for hospitals and schools - booming like never before.

One constant for the business has been TMHA (Sydney) Major Account Manager Paul Cooper, who helped find tailored solutions for Edgar Edmondson through the ups and downs of the pandemic.
"He's been contactable, he's been communicative, and he's done everything he could in that period to assist us such as getting us new rental forklifts at a very good rate just to keep us functioning," said Mr Edmondson.

"He is the reason our 180-pick face bay has continued to be filled and functioning, so I am very grateful for that."

Edgar Edmondson has a long history in Australia, with roots that can be traced back to 1941 where the Edmondson family began a cotton-weaving operation to manufacture bandages and parachutes for the war effort.
Over the years the business models shifted to producing cotton cloths for supermarkets and later to cleaning products under the Edco brand, with an import/export operation materialising in the 1970s.

The fourth-generation family business now operates out of three sites in Sydney, Brisbane and Perth, and is still based in Marrickville, even using the same warehouse it has owned since 1947. Celebrating 80 years in business this year, still family-owned and operated is a very proud achievement for our family, said Mr Edmondson.

Mr Edmondson wanted to acknowledge the tireless work of the Edgar Edmondson team to keep the business running through the pandemic.
For more information free-call 1800 425 438 or contact us, here.