20-Year Veteran Toyota Forklift Still Rolling For Agricultural Manufacturer
It was a case of 'same again, thanks' for a South Australian-based agricultural equipment manufacturer, when it came to getting a new Toyota forklift.

Ki-Ki Engineering, based in the small town of Ki Ki - on the Dukes Highway between Adelaide and Melbourne - recently added a new 3-tonne Toyota 8FD30 forklift to its fleet, to accompany its 2.5-tonne Toyota 62-7FD25 first purchased new 20 years ago.

Ki-Ki Engineering predominantly makes large-scale stone-rollers used in broadacre farming to prepare soil ahead of sowing crops.

Ki-Ki Engineering partnership owner, Laurens Verhees, has operated the business in partnership with brother Theodore Verhees for 40 years and said their father started the business even further back, in 1968. A true family-run business, both brothers' wives also work in the operation and youngest brother Peter Verhees has also recently joined.

"Basically, we manufacture agricultural stone-rollers to break-up stone in fields prior to seeding," said Mr Verhees.

"Mostly we use welders and oxy-cutters, lathes and drills. Our forklift duties include unloading raw materials arriving from interstate or Adelaide, moving steel plate, square tubing, and flat bar around after it's been cut, and putting pieces into position."

Toyota Material Handling Australia (TMHA) area sales manager, Brendan Shegog, said that with Laurens Verhees nearing retirement, he purchased the new Toyota 8FD30 forklift for the business, to shore things up for his younger brothers. "The original plan was to retire the old Toyota 62-7FD25 but once they got used to the luxury of having the additional forklift and not having to wait in line, they decided to keep the old one," said Mr Shegog. "Also, they're really busy at the moment so it was quite good timing for their business."

Ki-Ki Engineering's Laurens Verhees agreed, saying he was surprised how often both forklifts would be in use simultaneously. "We didn't realise how handy it would be to have them both at the same time," said Mr Verhees. "Before, one of us would be doing a job and then something else [requiring a forklift] would come up but we'd have to wait around. Now we can just hop on the other one right away, which is just great."

TMHA's Brendan Shegog said that the longstanding performance of Ki-Ki Engineering's older forklift greatly influenced the decision to buy another Toyota forklift for the fleet," said Mr Shegog. "They bought their 62-7FD25 about 20 years ago. Laurens actually kept the original receipt and showed it to me.

"In that time, basically nothing has gone wrong with that machine. In all its years, it's been well looked-after and serviced regularly by Toyota, it's had a really good run."

Mr Verhees said Toyota's reputation for reliability as exemplified by the enduring innings of the Toyota 62-7FD25 forklift gave him confidence to buy the new Toyota 8FD30 forklift.

"We know the Toyotas have a reputation for lasting a long time. We have found our 2.5-tonne Toyota forklift to be a reliable workhorse in its time with us. It has been really good.

"Even our steel suppliers who deliver to us use Toyota forklifts. They say they are good and that helped with our decision, also. We get Toyota to do the servicing and our old Toyota forklift has been almost faultless during its time with us. We had to do the brakes but that's about it and that wasn't a great drama. It didn't hold us up long. Other than that, nothing has gone wrong at all.

"So, we are expecting a nice, long service life from the new one, too. It's definitely going to see me out, given I'm retiring, that's for sure."

Mr Shegog said that Toyota's legendary reputation for durability hangs on a major cornerstone of the Toyota Advantage: Quality, Reliability and Durability (QDR). "We shorten it to QDR and that's a huge part of our business.

"We at Toyota have a very advanced production system that ensures high-quality machines. So when you buy one of our forklifts you know it's not going to let you down."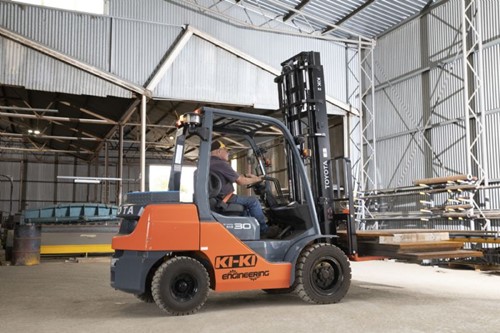 Asked to compare his old Toyota forklift with the new one Mr Verhees said "The old forklift is still performing well. The new one is excellent but it's quite different. I guess we're old fashioned because it took a little bit of getting used to with all the extra safety gear but I suppose you have to have that. It's there for a good reason.

"The SAS safety feature is a good thing to have. Luckily, we have never been in a situation where we've had a tip over and I hope we never do. It's good to know that the SAS system is there just in case something does happen."

Mr Shegog said the safety feature Mr Verhees referred to is Toyota's exclusive System Of Active Stability (SAS), which is another key tenet of the Toyota Advantage. "Our Automatic safety system, SAS, is an indispensable feature for our forklifts and a huge part of the Toyota Advantage," said Mr Shegog.

"The SAS computer constantly analyses the potential for a tip-over. If the SAS computer finds tip-over potential, it sends a signal to the Toyota forklift actuators, which then minimise tip-over potential."

Mr Verhees said other advantages of the new Toyota forklift including it being "A lot quieter. And the side-shift is excellent, it makes a lot of difference. Also the larger 3-tonne capacity is great."

Mr Shegog said the process with Ki-Ki Engineering was quite seamless. "We talked about the kind of forklift that would best suit their business and gave them a quote. They were happy with that so it was ordered and delivered. It was made easier by them pretty much knowing what they wanted, which was mainly a larger capacity diesel."

He said the entire process was an enjoyable one.

"The outstanding long-term performance of their old Toyota forklift made it a lot easier to choose another Toyota. I don't think they actually considered any other brands."

Hypothetically, how long could Ki-Ki Engineering keep its 20-year-old (and counting) Toyota forklift?
"We don't have any plans of retiring the old forklift at this stage," said Mr Verhees. "We'll simply be keeping it until such time as we need another, and then we'll buy another new one."
For more information free call 1800 425 438 or click here to contact us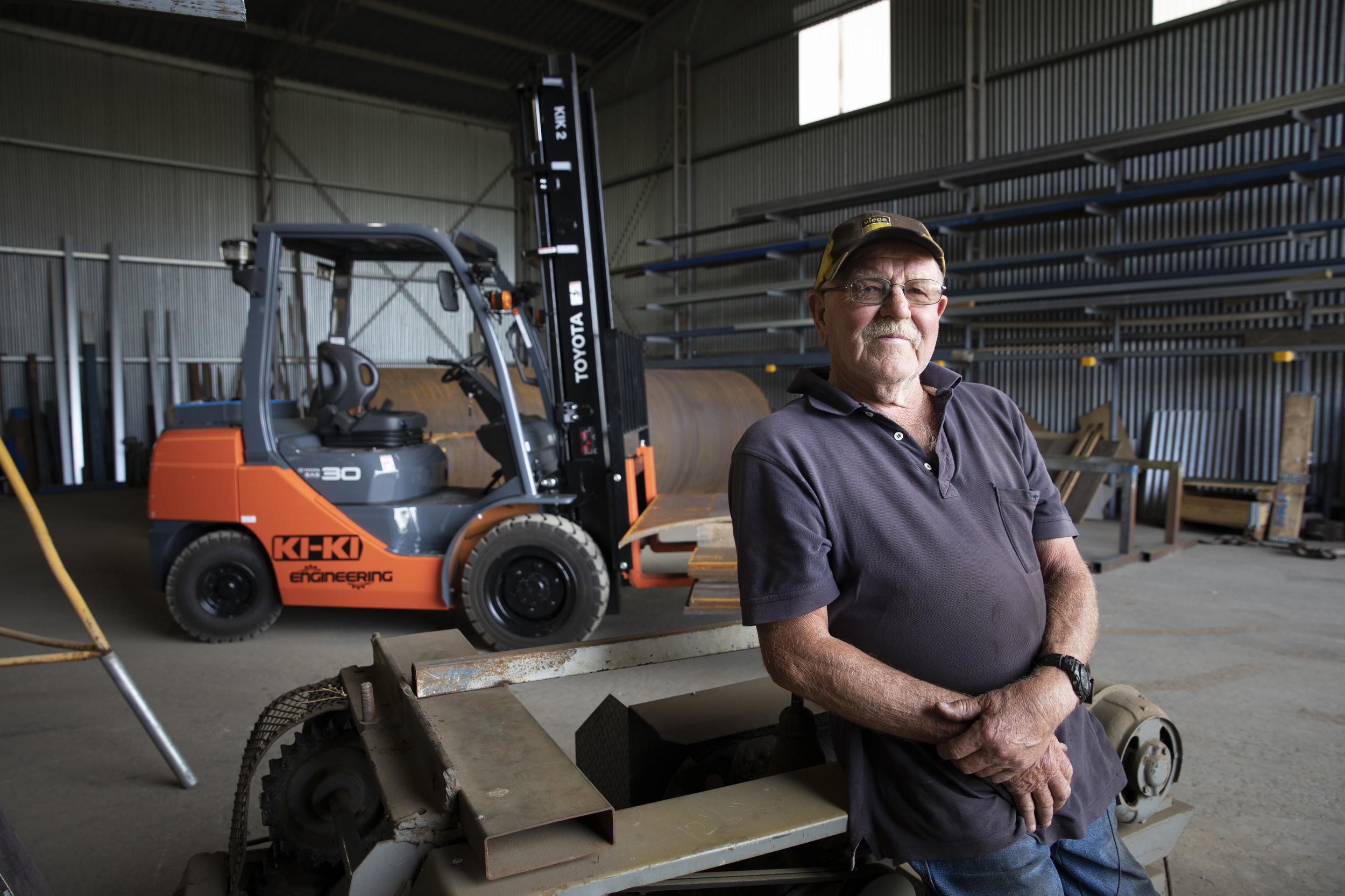 Proud owner of Toyota forklifts for over 40 years, Ki-Ki Engineering partnership owner, Laurens Verhees, said the 20-year and still-going performance of his its 2.5-tonne Toyota 62-7FD25 greatly influenced his decision to but a new 3-tonne Toyota 8FD30 forklift, based on its proven quality, reliability and durability.