Toyota Forklifts 'Hit The Nail On-The-Head'
A thriving truss- and frame-making business working alongside a multi award-winning hardware store have three Toyota Material Handling Australia (TMHA) forklifts and a sweeper at the heart of their daily operations.

Located in Polo Flat, Cooma, in New South Wales' Snowy Mountains Region - roughly 100 kilometres south of Canberra - High Country Truss and Frames, and adjoining business, Cooma H Hardware, experienced exponential growth over the last 10 years thanks to Canberra's booming building industry, and a fleet of Toyotas equipped to handle bourgeoning workloads.

Manufacturing roof trusses, wall frames and flooring systems, High Country Truss and Frames was originally opened as an extension of Cooma H Hardware.

Mirroring its staff growth from three to 20 employees over the last decade - split evenly between the two entities - the Toyota 'engine room' at the heart of the third-generation family run business started with a single gas-powered 32-8FG25 forklift in 2013 and two more - another 32-8FG25 and a gas-powered 3.5-tonne 32-8FGJ35 forklift - were added over a seven-year period. All three Toyota forklifts were in the fleet simultaneously in March, last year.

Duties include using the 3.5-tonne 32-8FGJ35 forklift for handling large packs of trusses and wall frames. One of the 2.5-tonne 32-8FG25s handles smaller packs in the plant and its twin is used in the hardware store for loading and unloading building materials.

High Country Truss and Frames manager, David van der Plaat, said the most recent addition to the business was a TMHA SP850 electric walk-behind sweeper 12 months ago, predominantly for cleaning the hardware store warehouse and drive-through.

"In the drive-through there are a lot of vehicles coming in-and-out, so road-grime and dirt, and dust accumulates there," said Mr van der Plaat.

"It was one of the first of the new TMHA sweeper models at the time and it works well. The sweeper has made it so much easier to clean the floors right-up. We're happy with how it performs."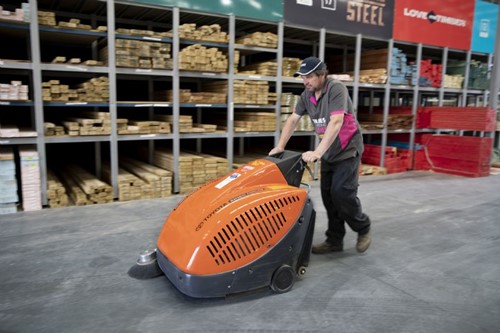 Mr van der Plaat said himself and his two sisters, Elizabeth and Jannene, took over the hardware business from their father's family, who started it in the late seventies. The trio has run the hardware store together over the last 20 years.

Presiding over both businesses, Mr van der Plaat predominantly runs the truss plant - along with Elizabeth - and Jannene manages the hardware store.

The truss and frame business was built on the current site at Polo Flat - Cooma's industrial area, 10 years ago and around five years ago the decision was made to move Cooma H Hardware there too, after designing and building the new premise we moved in two years ago as co-manager, Elizabeth van der Plaat explained.

"We had outgrown our previous hardware premises in town. Access was awkward, it was not purpose built and it was on the main street coming into Cooma so loading and unloading trucks was a daily challenge, so we amalgamated both businesses on the new site," said Ms van der Plaat.

"Our new building is single-level, purpose built and has a big yard with plenty of storage space. It's a fantastic store and has been recognised with awards including Hardware & Building Traders' (HBT) Regional Store of the Year 2019. We also won Hardware Australia's New South Wales Hardware Store of the Year, over 2500 square metres."

Ms van der Plaat said the trusses, frames and flooring systems are constructed from Hyne T2 pine timber and Multinail metal connector plates, and software. The business started out in the single residential segment and has since branched into large-scale multi-residential, with some jobs being up to 100 townhouses.

The business had some older forklifts from another brand but as they reached end-of-life, David van der Plaat was influenced for several reasons to make the Toyota switch.

TMHA area sales manager, Queanbeyan, Mark Elvins, said Toyota's reputation for Quality, Durability and Reliability (QDR), resulting from the high standards of the globally employed Toyota Production system, was a key selling point.

"We at TMHA employ the same exacting Toyota Production System used internationally, so customers are assured of the same high levels of QDR - which is a major cornerstone of our Toyota Advantage. David liked the reliability of our brand.

"It didn't hurt that Cooma was the first home of Toyota in Australia, because of the original Snowy Mountains Hydro-Electric Scheme, so our brand is strongly affiliated with Cooma historically and has proven our reputation for durability and reliability here since 1958.

"Another tenet of the Toyota Advantage is Lower Total Cost of Ownership and that's something David came around to, after initially buying cheap equipment that caused him problems and ultimately cost him in the long-run. He was prepared to pay more for something quality, that would be long lasting and have a lower cost of ownership in the long-run.

"The price of a forklift is only a small part of the total costs incurred during a forklift's operating life and our forklifts can save businesses thousands with less downtime, impressive productivity and generally higher resale values."

Mr van der Plaat agreed that his approach to material handling equipment investment has matured since the business' inception. "When we were starting off, we went more on price-point, but through experience we decided it was better to pay a bit more and trade that off for quality," said Mr van der Plaat.

"Toyota's reputation for quality preceded it ahead of our decision to purchase TMHA equipment and they have proven reliable so we added another, and another, Toyota forklift to our fleet - which wouldn't have happened if the first and second machines had problems.

"We can't afford downtime so we need them to be reliable. Our first one is seven years old and has proven reliable. We haven't really had any issues with them, so we're happy with the product."

Mr van der Plaat's experience with Toyota motor vehicles also instilled faith in his decision to invest in TMHA forklifts. "For 30 years, I've always had Toyota cars and I've definitely found the same reliability, quality and durability for those as has been the case with the Toyota forklifts so far.

"We've had three HiLuxes, two Prados, a 4-Runner and a Corolla, and never had a problem with any of them. So that definitely influenced my decision to go with Toyota Material Handling equipment, as well.

"We also considered getting a better resale value for Toyota forklifts when it's time to retire them. We've always found that to be the case with our Toyota vehicles, so we're expecting the same for our Toyota material handling machines."

Mr van der Plaat said the specification process was quite straight-forward. "I talked to Mark about what I wanted, we ran through a few things and he organised it for me. I've been around forklifts all my life, so I knew what I wanted and we got exactly what I wanted."

TMHA's Mark Elvins said another tenet of the Toyota Advantage, Nationwide Parts & Service, was applicable to the business. "We have one of the largest nationwide branch networks in Australia so we're never far away if a customer requires us, and David is only an easy drive down the highway."

Mr van der Plaat described TMHA support and service as being "Solid".

"Mark is only an hour up the road if we need him, so having him located nearby is handy. The other brand we were dealing with were all the way up in Wollongong and it was really hard to get them out here in a reliable fashion. With Toyota, they're not far up the road and they have a regular servicing cycle, and they stick to it.

"We used to have a different outfit for servicing but now we have Toyota to do all their servicing and it has been really good. It's convenient because the one service technician can look after all the machines in a single visit and it's easy to get parts because they stock them.

"They come in and undertake the servicing and if there's any additional work to be done they give us a quote, and then they fix it - although there hasn't been much in the way of non-standard work."

Asked to pick the most prominent feature that influenced his decision to go with Toyota forklifts, Mr van der Plaat nominated his favourite value in the QDR 'trifecta': "Their reliability is definitely the biggest thing, for me - and I love the colour!" he said, laughingly.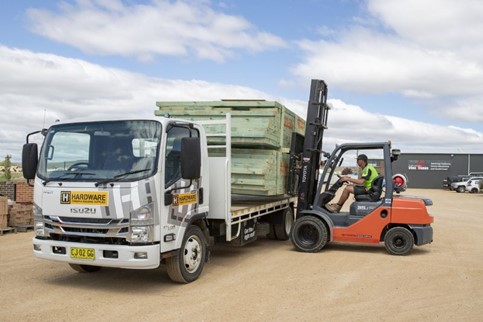 For more information freecall 1800 425 438 or visit toyotamaterialhandling.com.au