Toyota forklift customer wins new HiLux SR5
It was with pleasure we at TMHA recently drew the name of a customer to win a new Toyota HiLux SR5 worth more than $60,000.
Luck smiled on Glen Gangemi after being entered in Toyota Material Handling Australia's "Get More" sales event.               
The Sales Event featured special priced Toyota 8FG25 forklifts between June and September 2020, with every purchase qualifying for an automatic entry to win the HiLux prize: a 2020 SR5 4x4 2.8L turbo diesel with a 6-speed automatic transmission Double-Cab.
Owner of Galton Supplies – located in the Townsville, North Queensland suburb of Garbutt – Glen bought his Toyota 8FG25 forklift from Toyota Material Handling, Townsville, in June with the knowledge it qualified him for the HiLux draw, but he never imagined actually winning it.
Even after receiving a call from TMHA North Queensland area sales manager, Jason Redshaw, Glen struggled to compute the good news.
Glen said when he got the call from Jason, he didn't believe him, at first, and that the news set his heart racing. Glen said the whole experience was quite surreal.
Jason was also quite thrilled by the experience of telling his customer they'd won a $60,000 HiLux.
Glen's business, Galton Supplies is family owned-and-run, and specialises in manufacturing steel door frames and doors, supplying to commercial projects throughout Queensland.
Glen's s Toyota 8FG25 forklift is an invaluable tool for his business, made all the more obvious in comparison to his outgoing forklift from a different supplier, which kept breaking down on him to the point that he got fed up with it.
Glen said he chose Toyota for his next forklift purchase based on Toyota's reputation for reliability and safety.
Another factor influencing Glen's decision to buy his Toyota forklift was his experience with Toyota motor vehicles. He's quite the Toyota fan, having owned HiLuxes before, and presently, and now also driving a LandCruiser.
He said he is happy to invest in cars that will stand the test of time and that he feels the same way about his Toyota forklift.
He's only had the 8FG25 for about six months but it still looks and behaves the same as the day he bought it, like it just came out of the showroom.
He is hoping to get at least 10 years' service from it and will have us performing scheduled servicing for him on site.
He said that so far his Toyota forklift has been perfect, doing everything asked of it.
Even his operators 'fight' over it when a truck turns up.
Glen said winning the 8FG25 forklift was like Lotto in that you only need one entry to win and that in this case the HiLux was like a big lotto win. A great result for his first Toyota forklift!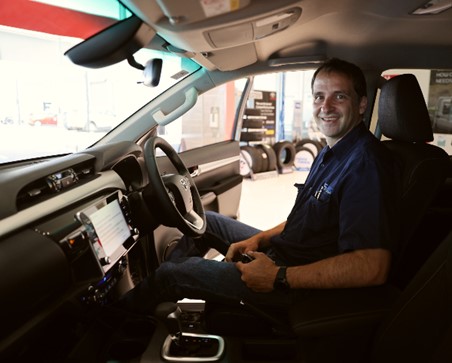 To find out how Toyota Material Handling can add value to your business please contact us for an obligation free site assessment of your premises.