Toyota Forklift Aces Customer Satisfaction Survey
Toyota Material Handling Australia (TMHA) has received an exceptional response from a happy client who recently completed a Customer Satisfaction Survey.

Located in Unanderra, South of Wollongong, New South Wales, Illawarra Office Choice acquired its first Toyota forklift, a, 8 Series gas-powered 1.8-tonne 32-8FG18 counterbalance, 18 months ago.

Since then, Illawarra Office Choice proprietor, Simon Foster, said he's been thrilled with the 32-8FG18 forklift's performance and equally impressed by TMHA's after-sales service.

Illawarra Office Choice is part of an Australian owned and operated group of independent local retailers, and is one of Australia's largest B2B office suppliers, as Mr Foster explained. "We are set up as a marketing group of over 100 individual owners right across the country, with our head office in Melbourne handling our supply agreements," said Mr Foster.

"We have significant collective volume turnover nationally and with the buying power to compete with multinationals, yet we are locally owned and able to provide a more knowledgeable and personalised service, as well as giving back to local community.

"As 'managers' we also own the business, so we ensure the whole team go the extra mile for our customers to receive the very best service. In terms of service, we have a high degree of product knowledge and help our customers with solutions that improve their business and make it more efficient. It's not just simply ordering office supplies.

"We supply everything from office stationery and electronics to consumables, and right through to furniture. If we don't stock something, there's nothing too big or small that we can't get for our customers - you might be surprised about some of the weird things we get asked for - so we're a full one-stop shop and that makes life easier for our customers."

Mr Foster said he entered a long-term rental agreement with TMHA after finding that a forklift he inherited with the purchase of his business was unwieldy and unreliable.

"When we first took over the business there was a forklift from another brand already here but it was a dinosaur and a pain to use. We used it for about 12 months. It had regular breakdowns and was just too big for our warehouse space. So, it was definitely time to replace it.

"I did a bit of research and found Toyota had a good reputation in the industry. I also have a friend who works for Toyota and I discussed it with him. I considered a couple of other brands but, in the end, it was the obvious build quality and a name for reliability and durability that made going with Toyota a no-brainer. It also helped that we were able to try out a few different Toyota machines before deciding that the 8FG18 best-suited our business' duties."

TMHA area sales manager, Paul Moujalli, said Toyota's reputation for quality, durability and reliability (QDR) is a cornerstone of the Toyota Advantage. "QDR is at the core of our values as a brand," said Mr Moujalli. "Our forklifts are built using the same advanced manufacturing technologies as Toyota's automotive products. The Toyota Production System is highly refined and employed the same way globally, ensuring every piece of equipment is built to exacting standards and resulting in high levels of QDR."

Illawarra Office Choice's Simon Foster said one of his biggest gripes with his former forklift was its large size and cumbersome operation. "Our warehouse aisles are pretty restricted so mobility in our small warehouse was very important.

"Our ex-forklift was clunky. Certainly a lot more cumbersome than the Toyota we replaced it with - a lot less manoeuvrable.

"Our new Toyota forklift is a smaller machine - but it still lifts loads a lot easier than the old machine, and because its turning-circle is so small, we can turn it around in one go. So it's a lot more efficient. Its mobility in our fairly cramped warehouse saves us time, making our work easier and increasing our productivity. In turn, that flows-on to how we can better-meet our customers' needs."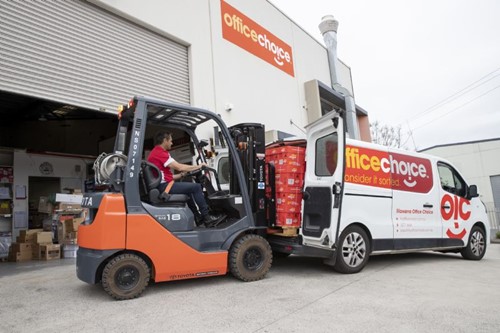 Another consideration for Mr Foster was his Toyota forklift's inherent safety features. "Safety is big for us," he said. "We had a situation with the old machine where one of the paper trucks air-levelled itself once a few pallets were taken off it. It lifted one part of the old forklift off the ground and the forklift didn't correct itself, which was quite scary.

"The Toyota technicians went through the System Of Active Stability (SAS) system with me as part of the process of acquiring our machine, which was really reassuring."

TMHA's Paul Moujalli explained that Toyota's exclusive SAS is another key tenet of the Toyota Advantage. "As an automatic safety system, SAS is an indispensable feature for our forklifts and a huge part of the Toyota Advantage," said Mr Moujalli.

"The SAS safety measures are based on the fact that the stability of a forklift changes constantly due to shifts in the balance of the load, coupled with the speed and turning-rate of the forklift.

"It is similar in concept to vehicular anti-lock braking systems and vehicle stability control systems in that it contributes to accident-prevention by detecting motion during operation.

"The SAS computer constantly analyses the potential for a tip-over. If the SAS computer finds tip-over potential, it sends a signal to the Toyota forklift actuators, which then minimise tip-over potential."

Mr Foster said a long-term rental model suited his business because it simplified his costs. "A fixed-price package is much easier to budget for," he said. "We're happy to know where we stand in terms of expenses through the long-term rental agreement."

Likewise, Mr Foster is pleased with the service and support he's received from TMHA. "Toyota's support has been awesome," he said. "We have our regular servicing where the technicians will come and make sure everything's on track. They arrive on time, have all the parts, do their thing really quickly and get out of here. And because they work around our schedule, there's no interruption at all to our business."

When asked in the Customer Satisfaction Survey if he would recommend Toyota forklifts to other businesses, Mr Foster provided the maximum rating of 10, saying "I would strongly recommend Toyota forklifts to anyone looking for any type of lifting requirement. I feel real value-for-money with fixed monthly expenditure including servicing and a machine that is 100 percent reliable, and that saves us time with its mobility."

So happy was he about TMHA service levels, he skipped the Survey section "Because it doesn't need any further improvement - I couldn't ask for better service than we're already getting," he said.

Asked to cite favourite things about his Toyota forklift, Mr Foster said reliability is a huge factor: "We've had the forklift for nearly a couple of years now and had no problems with it, whatsoever. It's been 100 percent reliable.

"The other thing is that it's so much more manoeuvrable. The efficiencies that brings is certainly one of the best things about it."

So, it's all in a day's 'office' work for this 32-8FG18 Toyota forklift.

For more information free call 1800 425 438 or visit toyotamaterialhandling.com.au