New Toyota Forklifts A 'Chip Off The Old Block' For Frozen Food Supplier
A thriving business specialising in the distribution of frozen food and supplies to fish and chip shops has recently added another new piece of Toyota Material Handling equipment to its fleet - an 8 Series gas-powered 2.5-tonne 32-8FG25 counterbalance forklift - after first-buying a Toyota forklift, 25 years ago.

Choice Chips, based in the light-industrial suburb of Wangara, Western Australia, services three-quarters of Perth's metropolitan area fish and chip shops, weekly delivering over 65 tonnes of chips, alone.

Owner, Michael Xydas, said he bought a used two-tonne Toyota forklift when he first started his business, 26 years ago and that it exceptionally served him for seven or eight years before he sold it privately.

He said his extensive business journey eventually led him back to Toyota forklifts.

"Back then, I was making the chips. Now we have a factory do the chips. We use our special kind of potato which make chips very crispy and very sweet.

"Now we have a 1200 square-metre warehouse with a big 220 pallet-capacity, 350 square-metre freezers.

"When I started the business, I found the Toyota forklift second-hand, and it was a good price. Then I got a new one from another brand because it was cheap. To look for cheap, it's not always the right way. But sometimes when you are young in the business, maybe you can't afford to buy the best. Now, after all these years, we bought the best. Toyota has always had a reputation for being one of the best, no question about it. And they're not that expensive because they're good for the long-term. Their durability is very important and you get your value out of them that way."

Toyota Material Handling Australia (TMHA) WA area sales manager, Darren Desouza, said Toyota's reputation for quality, durability and reliability (QDR) has been consistently proven for over 50 years and is a result of Toyota's meticulous Production System. "QDR is a major part of the Toyota Advantage and stems from our forklifts being built using the same advanced manufacturing technologies as Toyota's automotive products," said Mr Desouza.

"The Toyota Production System is highly refined and employed internationally to ensure every piece of our equipment is built to exacting standards, thus resulting in exceptional quality, durability and reliability."

In 2019 Choice Chips' Mr Xydas decided to buy a new 8 Series battery electric 1.8-tonne 8FBR18 stand up reach forklift, which he describes as "The best machine we've got here because it can take any pallet we have. It's unbelievably good."

So impressed is he with his Toyota reach truck's performance, Mr Xydas recently decided to go 'full-circle' and purchase another Toyota forklift: the new 2.5-tonne 32-8FG25 counterbalance, which 'book-ends' his first Toyota forklift bought at the business' inception.

He said his machine-selection process was streamlined with Toyota's attentive assistance. "We had some Toyota guys out here and I was impressed with them. They helped point me in the right direction, which I was very pleased about."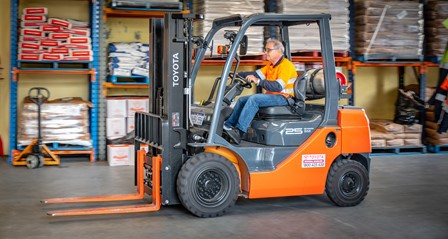 TMHA also regularly services both machines, working around the business' schedule. "They come over and they are very professional, very polite. Obviously, this stuff comes from the management. They train them to learn to have a relationship with the customer because if you do have a relationship it goes on for a long time. If you don't have a proper relationship, it doesn't have any future."

Mr Xydas said he was also pleased to learn about Toyota's safety systems, which were explained to him on-site. "Yes, they came out and showed me the safety features like the one that helps minimise the likelihood of machines tipping over, which is of course very important to me and our other drivers."

TMHA's Darren Desouza said the safety feature Mr Xydas referred to is Toyota's exclusive System Of Active Stability (SAS), which is another cornerstone of the Toyota Advantage. "Our Automatic safety system, SAS, is an indispensable feature for our forklifts and a huge part of the Toyota Advantage," said Mr Desouza.

"It is similar in concept to vehicular anti-lock braking systems and vehicle stability control systems in that it contributes to accident-prevention by detecting motion during operation.

"The SAS computer constantly analyses the potential for a tip-over. If the SAS computer finds tip-over potential, it sends a signal to the Toyota forklift actuators, which then minimise tip-over potential."

Mr Xydas said he takes great reassurance in the knowledge of the SAS protection when operating his Toyota's, which he greatly enjoys, saying he finds them "Extremely good" to operate.

Asked what he likes most about his Toyotas, Mr Xydas said "Because you don't have to worry about anything. You know you're not going to have accidents and problems that stop them, so it gives you reassurance.

"Put it this way: I won't go to another brand anymore. I'll stick with Toyota from now on."

Without prompting, Mr Xydas disclosed that he has already recommended Toyota equipment to other businesses.

For more information free call 1800 425 438 or visit toyotamaterialhandling.com.au