Transport Leader Exclusively Toyota Forklifts For 25 Years
Queensland's largest family-owned transport company, Followmont Transport, has had new Toyota Material Handling forklifts exclusively at the heart of its warehousing operations for over 25 years.

With 18 owned regional depots, a combined 40,000m2 warehousing and storage facilities and a network of local contractors, the Brisbane-headquartered business claims to operate Queensland's fastest transport network, which also covers New South Wales.

With seven-day-a-week services to most locations, Followmont is the preferred carrier for many tier 1 accounts, including many businesses that are household names.

They are also the delivery company-of-choice for many interstate transport companies, SMEs, online retailers, farmers, mums and dads and regional businesses - carrying everything from pharmaceuticals and fresh produce to spare parts and paint.

Followmont CEO, Mark Tobin, said the business prides itself on going the extra mile to deliver in the fastest time possible, whether a single parcel or a complete transport, warehousing and logistics solution, and that this performance has helped the second-generation family business has experienced rapid growth. It is presently building three new depots and two new warehouses - to the tune of a $20million investment - to further expand and improve its network.

"We've had a massive transition over the last 15 years and pretty huge growth over that time," said Mr Tobin. "Today we employ over 850 people and have around 250 forklifts spread out across our depots, with the majority being Toyota 62-8FD25 8-Series 2.5 tonne diesel-powered machines."

Mr Tobin attributes the business' success to number of factors including its principles, business partnerships and performance. "We are a close-knit family business and we adhere to our values. We are personal first, and commercial second. We pride ourselves on speed-of-delivery and customer satisfaction.

"That's our approach and those values are behind our longevity and continued expansion."

Followmont Transport has always striven to seek partnerships with like-minded suppliers and such is the case with its forklift supplier Toyota Material Handling Australia (TMHA), with whom shared values have formed the basis of a relationship extending back 25 years.

"We are dedicated to our customers, our people and our suppliers. This is key to our values and behaviours. It's all about our people and our partners, making sure we're engaged with them and vice-versa," said Mr Tobin.

"We have a couple of key suppliers and Toyota Material Handling Australia is one of those. The Toyota relationship goes back a long way, being key to our business for 25 years- plus, which is a pretty amazing duration.

"So in a way, they have been part of our business and we still look at it like they are part of our business. Likewise, Toyota really values our business and it shows."

TMHA corporate account manager, Jason Fennell, concurred. "We hang our business on our Toyota Advantage - part of which is Tailored Business Solutions - and have been proud to have been available to provide advice on the best business solutions and the right equipment and service support for Followmont Transport over such an extensive duration," said Mr Fennell. "Our solutions are fully tailored to their needs."

Another key Toyota Advantage known to be vitally important to Followmont's success is the demonstrated quality, durability and reliability of TMHA's equipment.

"Followmont's business hinges on being able to deliver goods on time and it simply cannot sustain any delays caused by equipment failure," Mr Fennell said.

"They love our forklifts because they have been proven to be reliable. We think that's why they keep on coming back to us."

After working his way up in the business from humble beginnings, Followmont's Mark Tobin has settled on a model he is confident in. "I started out as a mechanic by trade and have since done every job in the business - all the way from sweeping the floor to CEO. So I know our business inside-out and that extends to the performance of the products we deal with," he said. As such, Followmont adheres to a policy of buying new Toyota forklifts outright, every four years or 10,000 hours. "Whenever we hit that mark, I trade them in for new ones, year in year out.

"Toyota durability is already very good, but this way even less can go wrong and it ensures they're not pushed too hard, even accounting for misuse.

"We as a business simply can't afford any down-time. The volume of our deliveries is too great. One of the reasons I buy new Toyota forks is that I don't see them in our repair workshop. Nothing goes wrong with them. They just keep going, just keep working.

"Because of this, I don't have to buy other new forklift brands. I haven't purchased a new forklift that wasn't a Toyota for over 20 years."

And is this relationship likely to continue? "Yes, we strive to be the best and we need the best partners and equipment to meet our own high service standards and customer expectations.

"We're expecting to continue strongly with TMHA into the foreseeable future. The relationship has proven so successful for our business, why would we change?"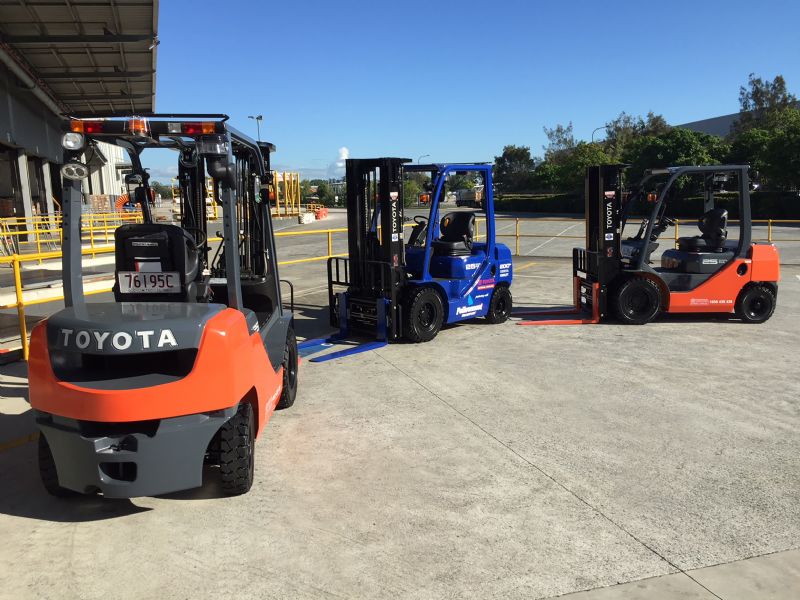 With 250 forklifts spread across its depots - the majority being Toyota 62-8FD25 8-Series 2.5 tonne diesel-powered machines - Queensland's largest family-owned transport company, Followmont Transport, has had new Toyota Material Handling forklifts exclusively at the heart of its warehousing operations for over 25 years