Toyota Tow Tractors Open Doors To Transport Efficiencies, Increased Safety
Leading Australian door and window manufacturer, Wideline Windows & Doors, has vastly improved the business' labour efficiency and safety since introducing two Toyota towing tractors to its fleet.

The electric-powered Toyota CTB6 sit-down type towing tractors were debuted at Wideline's main production site at Tuggerah on the New South Wales' Central Coast as a means to streamline the carriage of stock from its assembly warehouse to its transport dock.

With over 300 staff located across several branches and specialised production facilities, Wideline Windows & Doors sells products mainly to large construction companies and private builders across New South Wales.

Wideline Supply Chain Manager, Eli Kent, said the company internalises as much manufacturing as possible. "Aside from our material suppliers, we control the entire manufacturing process from start-to-finish," said Mr Kent.

"All components feed into our main production site in Tuggerah where the assembly occurs. Our doors and windows are then collected by our fleet of company owned and Wideline-branded trucks which deliver right across the state."

Wideline has experienced significantly increased demand for its products in the last few years, resulting in a need to increase its manufacturing capacity and efficiencies.

The company had previously relied on manual trolleys, or pure manual handling, to shift stock - a system-of -work identified for improvement. "Prior to the Toyota towing tractors, the 'tow-tugs', our dispatch team had to manually load a trolley up with product and push by hand, or they would physically lift and carry product from point A to point B," said Mr Kent.

"We had a steady stream of guys moving a single door or window at a time - all the way from our assembly site over to the loading bay where they'd be loaded onto trucks before delivering to our customers.

"That mightn't sound like a big deal in itself but when you're moving one unit at a time over a fair distance, that really starts to add up. We'd have guys out there walking 15 to 20 kilometres through the yard in a day."

Wideline reached out to Toyota Material Handling Australia's (TMHA's) Newcastle's area sales manager, Allan Peacock, to discuss the feasibility of its ideas for improving its material handling systems. "Wideline had a concept to dramatically reduce labour costs and increase productivity," said Mr Peacock. "They wanted to know how their idea could best-work using our product solutions. We nutted it out and settled on the most appropriate equipment. Then we trialled it with a demonstration model in Wideline's factory to prove it would work.

"Our collaboration with Wideline was a great example of us providing Tailored Business Solutions - a key pillar of the Toyota Advantage - for a customer."

Mr Kent said Wideline appreciated TMHA's assistance in developing their concept. "Allan attended site and got a feel for how we were moving product around the yard at that time. He examined the physical dimensions and weights of our product range, the terrain and the environment in which our guys were working. He ultimately recommended the Toyota CTB6 sit-down type tractors as being the best fit-for-purpose and assisted with their fit-out."

Wideline specially designed and engineered trailer-style trolleys for hitching to a Toyota tractor, allowing multiple frames to be transported simultaneously. "Whereas before there would be multiple trips from point-to-point with a little trolley bearing just a single item, now multiple frames can all be loaded onto the trailers and delivered in a single trip," Mr Kent said.

"Now, 90 percent of our products are moved on the trailers using the tow-tugs. Only the smallest and most fragile products are moved by manual trolley or by hand because they're unsuitable for the trolley and might get damaged. Otherwise, we now have the trailer trolley sitting at the end of the production line and as the frames come off the line, our guys slide them in. The tow-tug comes up, hitches on and it's gone."

With only 10 percent of product now being moved individually, Wideline has markedly increased productivity and reduced potential for injury. "It means our guys are freed up to focus on other duties. It has also brought about other benefits such as increased safety because they're not manually handling products as much and reduced our downtime, and associated costs of injury.

"Not to mention the guys love driving the tugs. It's less time on their feet so their job is a lot easier. They're all for it."

Wideline recently opened a brand-new vertical paint line where it powder-coats its extrusions and profiles, for which it commissioned a new Toyota 3.0 tonne 32-8FG30 counterbalance forklift with telescopic reach forks that was specifically designed for that environment. It allows laden trucks to reverse into the inside of the factory so the forklift can unload a full truck all from one side - as opposed to the truck having to turn around. This has vastly improved loading and unloading times.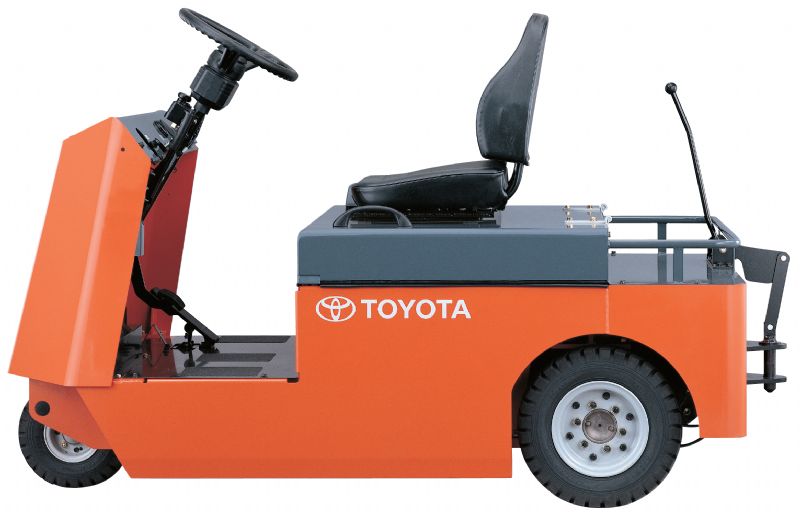 Leading Australian door and window manufacturer, Wideline Windows & Doors, has vastly improved the business' labour efficiency and safety since introducing two Toyota CTB6 sit-down type towing tractors to streamline its stock carriage