TMHA Honours Top 2019 Forklift Technicians
National Toyota forklift retailer Toyota Material Handling Australia (TMHA) has confirmed its commitment to maintaining industry-leading training and service standards with its annual National Skills Competition.

Countless hours of technician study and practice were put to the test at TMHA's Training and Development Centre in Moorebank, New South Wales, in May.

The annual competition saw 140 forklift technicians and apprentices from across the TMHA national branch network complete two online exams, the first reducing the field to 60 and the second determining 15 finalists. Six apprentices and nine technicians then put their knowledge and ability on display over two days of theory- and practical-based exercises covering TMHA's Toyota, BT and Raymond brands of forklifts and warehouse equipment.

TMHA president & CEO, Steve Takacs, said the National Skills Competition is important for the business on many levels. "It's an investment in the skills of our technicians and apprentices. It helps ensure they have a high level of product knowledge and the abilities required to remain at the forefront of industry standards," said Mr Takacs.

"Conducting the skills contest provides real benefits. It has been proven to support high customer satisfaction rates thanks to less downtime and increased efficiency for all our business partners.

"It's also just reward for their efforts in continually up-skilling. The Apprentice of the Year component, in particular, allows budding technicians to test themselves against the country's best."

This year's TMHA National Skills Contest marked the twelfth anniversary of adding the Apprentice award.

Mr Takacs said the competition is also important to him, personally. "I started out in this industry as a forklift technician, so I know the importance of skills training. It's something we have run for over a quarter of a century and something we will continue to support as part of our commitment to maintaining industry-leading service standards."

This year, nine technicians specialised in one of three brands - Toyota, Raymond and BT - for the practical component and also sat an exam covering all three brands to determine the overall Master Technician.

The Master Technician of the Year award for 2019 was won by TMHA Melbourne's Matthew White, after also winning the 2019 National Technician of the Year award for BT products. Mr White had previously been crowned Master Technician of the Year in 2017 and also 2017 National Technician of the Year for Raymond products.

This year's Raymond Technician of the Year was won by TMHA Brisbane's Lee Dowse and TMHA Adelaide's Alex Rowley took out Toyota Technician of the Year 2019.

Liam Manly of TMHA Brisbane rose from a field of six to become Apprentice of the Year 2019. As part of his prize, Mr Manly will attend an Educational Factory Tour of an overseas Toyota forklift production plant, as will Master Technician Winner, Matthew White. All brand winners received a $2000 cash prize and all participants received Makita power tools.

All winners were presented with their awards and prizes by Mr Takacs and TMHA chairman, Toshi Nakazawa, at a national TMHA awards function in May.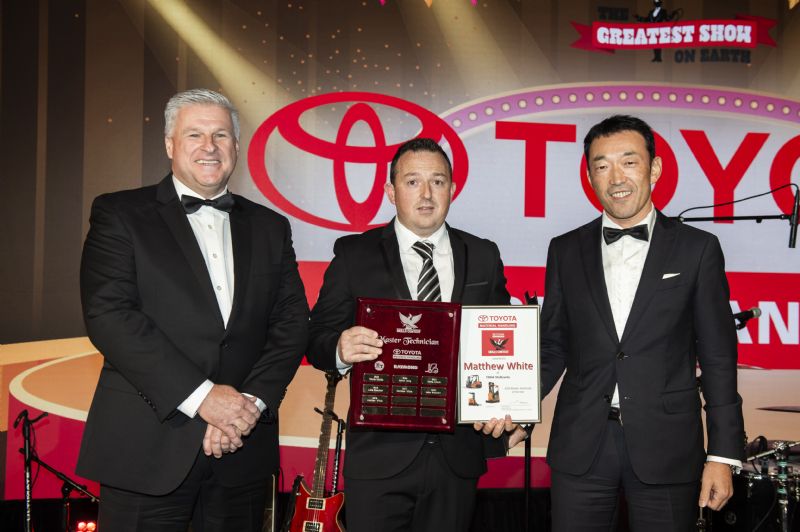 TMHA President & CEO Steve Takacs, 2019 Master Technician of the Year winner Matthew White, TMHA Chairman Toshi Nakazawa
Watch video