From Forklift To Sportscar- Tile Importer Wins TMHA Toyota 86 Promo
When Toyota customer Ming Shang purchased an 8FG25 2.5-tonne forklift for his ceramic tile importation business last year, he didn't expect it would come with a brand-new Toyota 86 GT coupe. 

Fortune smiled on Mr Shang when he was selected as the winner of Toyota Material Handling Australia (TMHA)'s "Win a Toyota 86 GT" promotion. 

The promotion held that any purchase or long-term rental (minimum 60 months) of Toyota Material Handling equipment in the lead up to 2019 qualified customers with a competition entry.

TMHA area sales manager Michael Tsougranis recently presented the 86 GT to Mr Shang and his wife, Susan, at Chatswood Toyota and said Mr Shang scarcely believed him when he called with the good news. "I had made Ming aware of the 86 promo at the time he purchased the forklift and that he qualified for a competition entry, but he didn't think he had a chance of winning," said Mr Tsougranis. "I said to him: 'Well, let's see what happens'" and the rest is history.

"It was really cool to ring him and give him the good news. He couldn't believe his ears. At first, he thought I was joking.

"I was really pleased for them when they came along to collect the car. They're really nice people and they were so happy about it. And who wouldn't be? To get a free car with a single entry? You beauty!" 

Mr Shang agreed that he was "Very, very happy" with his prize. "The timing is good because our daughter has just started university so I will let her drive the car," said Mr Shang, who optioned an automatic transmission with his daughter in mind and is also looking forward to driving the mid-engined coupe himself. 

Mr Shang already had two Toyota forklifts at his 30 year-strong Auburn, New South Wales-based ceramic tile importation business, Kai Ming, before purchasing the 86-winning 2.5-tonne 8FG25 forklift.

"We have had our old forklifts for seven years and they are still very good. Very good quality." He said his latest addition is "A very, very nice one. It has very good functions. When we pick up the pallet, we know the pallet's weight so we know the maximum tonnage we can put onto a truck. Before, we didn't know that so we had to guess and sometimes there would be too much weight or not enough weight on the pallet." 

Mr Shang said he has no plans to change forklift brands and is already considering adding another new Toyota forklift to his growing fleet. "We will stay with Toyota because they just keep working," he said. "Probably next year we will get another one because we send out trucks full of ceramic tiles all the time and the two or three forklifts, we have at the moment might not be enough to keep our orders ready."
 For more information freecall 1800 425 438.
Contact us via email, here.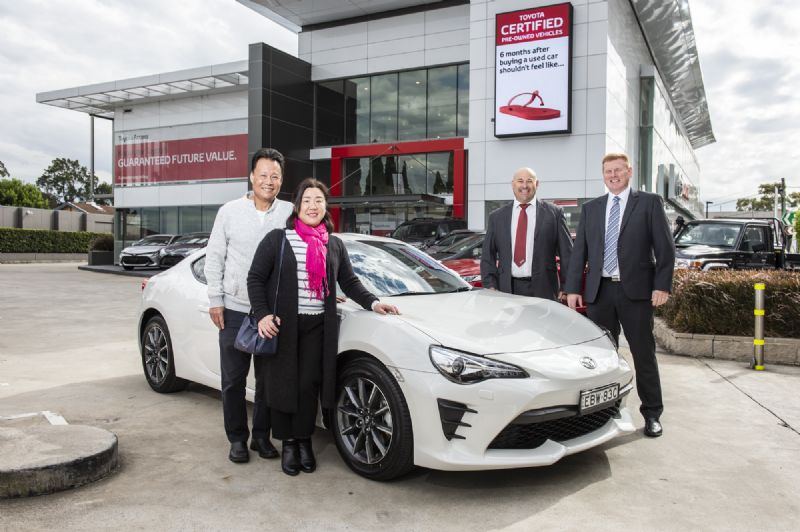 Left-to-right: Ming and Susan Shan, TMHA area sales manager Michael Tsougranis and Steve Hopkins with the 86 prize, which is intended for the Shang's daughter. Mr Shang said he has no plans to change forklift brands from Toyota "Because they just keep working".