Toyota Forklifts Keep Yummy Foods Flowing
When Andy Trimboli took over Yummy Snack Foods in June 2008, he replaced one of the existing forklifts with a Toyota battery electric forklift and has continued to buy Toyotas ever since.

The company now has six Toyota battery electric forklifts - five at its Adelaide headquarters and one at its Brisbane distribution centre - and a fleet of 26 Toyota cars nationally.

The latest Toyota forklift, a 1.8-tonne payload three-wheel 8FBE18, was commissioned in Adelaide in mid-October.

Business turnover has trebled its turnover in the last nine years and the company now ships 17 tonnes of nuts, dried fruits and confectionary per day across Australia and the Asia-Pacific.

"Toyota makes great forklifts; I've have had nothing but good things to say about them from the day we bought our first one in 2008," Yummy Snack Foods managing director Trimboli said.

"With Toyota, you get what you pay for - they represent excellent value for money and we've never had a problem.

"They're just a better built and better finished forklift. By the time you finish the rental or purchase period, you're well and truly in front.

"We also have a sizeable fleet of 26 Toyota Aurions, Camrys and Corollas, across all the mainland State capitals.

"In my opinion, if you're not driving Toyotas, you really should be," he said.

Yummy Snack Foods organises its forklift supply and service arrangements through Toyota Material Handling Australia's Adelaide branch and area sales manager Ben Lucas.

"The whole time we have been here we have dealt with Ben Lucas. He's a gentleman," Mr Trimboli said.

Toyota 8-Series battery electric forklifts have the latest control technology, coupled with an ergonomically designed operator compartment.

Outstanding energy efficiency has been achieved with new motors and drivers, to improve operating time by 20 per cent compared to the previous 7FBE forklift model.

Key safety features include Toyota's System of Active Stability, to reduce the risk of tip-overs, and Active Mast Function Controller to limit mast angle and forklift speed according to load height and weight.

Yummy Snack Foods is a 100 per cent Australian family owned and operated company, distributing a range of snack food products.

It is donating 10 cents from every 500g bag of Almonds, Cashews, 'Yummy Delight', and 'Premium Billabong Blend' to the McGrath Foundation, which supports McGrath Breast Care Nurses in rural and regional Australia and educates young women to be breast aware.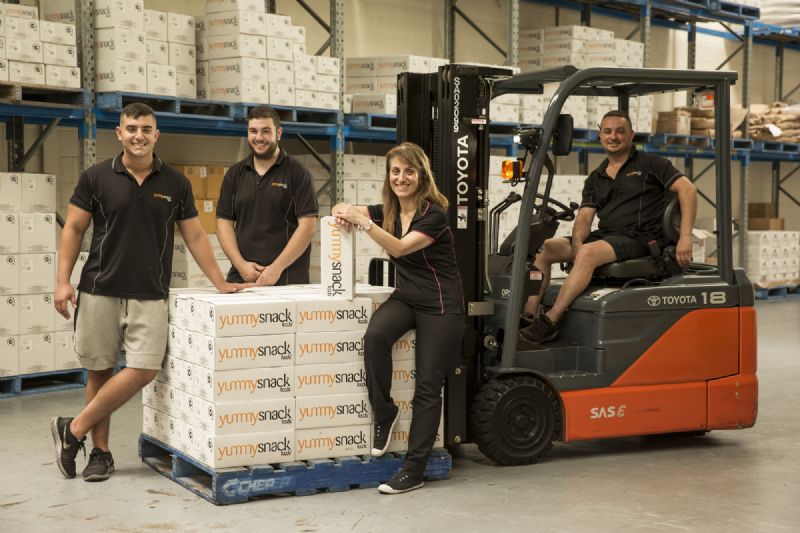 Yummy Snack Foods staff (left to right) Christopher Agostino, Joseph Cavallaro, Rina Agostino and Robert Garuccio, with a 1.8-tonne payload three-wheel Toyota 8FBE18 battery electric forklift