Modified Toyota Forklift Puts Worker In The Box Seat
A uniquely modified Toyota 8-Series 1.8 tonne payload forklift has allowed Glen Dimplex factory hand, Shaun O'Bryan, to carry out an increased range of duties at the business' warehouse in Dry Creek, north of Adelaide.

Mr O'Bryan, who has dwarfism, was placed in employment with Glen Dimplex by specialist Disability Employment Service provider, Barkuma, in 2012. Starting as a factory labourer, Mr O'Bryan gradually acquired new skills and responsibilities on the job, most recently culminating in a desire to get his forklift licence.

Barkuma is a not-for profit-organisation that helps people with developmental disabilities gain employment in the open workforce and provides ongoing support.

Luke Axford from business development at Barkuma described the process as starting with a visit to Shaun where we spoke about an issue he was having on site with an electric walk-behind forklift and discussed the possibility of him making some workplace modifications through the Federal Government's JobAccess program," said Mr Axford.

"JobAccess provided an occupational therapist and after an environment assessment and report the Department authorised quotes and contact was made with Toyota Material Handling (TMHA) South Australia area sales manager, Paul Warburton. Paul helped select a model that could most easily be modified."

TMHA's Paul Warburton engaged the assistance of longstanding key partner, Dometic, for some design and engineering elements of the 8-Series forklift modifications.

Dometic general manager Phil Wilkins said the company's 25-year relationship with TMHA during which it has modified Toyota machinery, put it in good stead for such an unusual and extensive job. "Most of the work was done by the Toyota guys but we handled the heavy components such as the platform, for example, because we have a metal fabrication shop," said Mr Wilkins.

"Normally when modifying a forklift, we're arranging an increase in cabin height but in Shaun's case we were looking to reduce it. The main thing was to get the correct seat index point - the point of your hips when you're sitting in the seat - for Shaun because his legs and arms are shorter in proportion to his torso."

Mr Warburton said some special modifications such as moving the handbrake out of the footwell to the main console were performed at Toyota's factory in Japan and others locally. "We got Shaun over for the fit-out and measured things up. Then we made mock-ups for floor height, handles, steps and pedals. It was a fairly rigorous trial period and he came over many times to test-drive it before we finalised things," said Mr Warburton."

Modifications included raising the 8-Series' floor and pedals by 15 centimetres, moving handles down and adding extra handles to assist entry and exit, and the addition of mini-levers.

"Our pre-delivery guys worked really hard to get it to suit Shaun - it is a unique machine and definitely customised for him. He was stoked beyond words, so the result speaks for itself," Mr Warburton said.

Dometic's Phil Wilkins said one of the cleverest things about the modifications is that they are easily reversable and transferable. "We didn't want the modifications to lock Shaun into that forklift because they do have an expiry date. When it's due to be traded or upgraded, everything can be un-bolted to return the forklift to standard so it won't affect its value.

"And if it's replaced with another 8-Series 90 percent of the modifications can just bolt straight onto the new machine. Simple as that," said Mr Wilkins.

Many different parties threw their resources and support behind the project over a nine-month period, going above and beyond to ensure the desired outcome. Dometic donated all its time and production to the project, which also received backing from Coopers Brewery.

Glen Dimplex takes care of the forklift's running expenses such as fuel, maintenance and registration - an arrangement Glen Dimplex production manager Kyle Maidment describes as a win/win result that emerged from what was a less-than-ideal situation. "Shaun had previously been using a 'push-along' forklift with operation controls designed to usually be at waist height but for him they were at head height so there was a safety consideration there," said Mr Maidment.

"Also, our parts storage is in big crates that are too heavy for the push-along forklift so almost daily Shaun would have to ask the storeman to move a crate down for him so he could grab a spare part. He'd have to stand around and wait for that to happen but now he can do it himself, at will. So it's not just about autonomy but also efficiency."

Mr Maidment said Shaun's ability to operate the modified Toyota 8-Series forklift has also opened up a path to promotion. "I was contemplating moving his range of heaters off site but couldn't do so without having to send another person to work with him. But now, we can seriously look into that because Shaun can handle everything on his own, including dispatch," said Mr Maidment.

Man-of-the-moment Shaun O'Bryan is still pinching himself over the magnitude of his equipment upgrade. "The old walkaround forklift wasn't suitable for me, but I never expected a whole brand-new fork truck," Mr O'Bryan said. "Toyota did such a fantastic job with the modifications. It's very comfortable to use. It feels exactly like it was built for me.

"I do a lot of parts stuff and they're stored in crates stacked five or six high that definitely needs a forklift to get them out. Now, I don't have to ask anyone for help with moving things around or getting things down It's made me completely independent in my job and I'm so appreciative about that. It's a real ripper."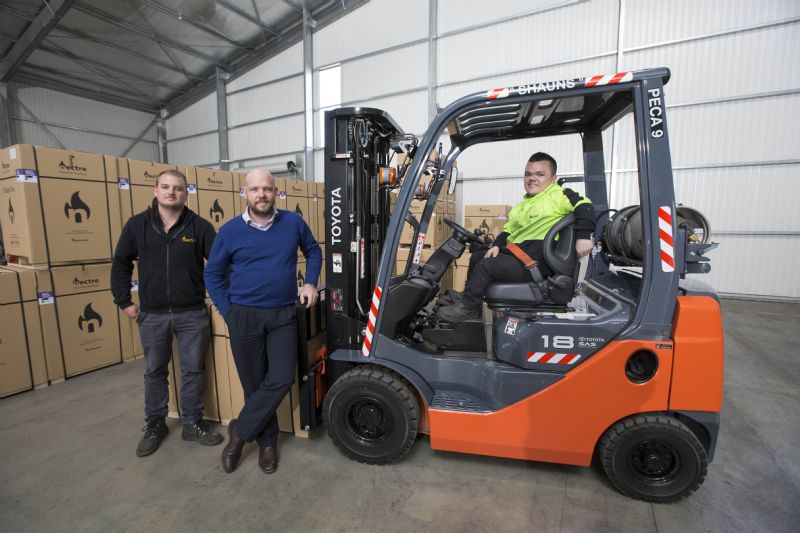 Kyle Maidment Pecan Production Manager, Luke Axford Barcuma Business Development and Shaun O'Bryan Pecan staff