New and Used Toyota Forklifts Help Queensland Charity
A Queensland not-for-profit charity providing food relief for families in need is benefiting from new and refurbished material handling equipment supplied by Toyota Material Handling Australia (TMHA).

Located at Loganholme and Hillcrest hear Brisbane, Lighthouse Care recently purchased a fully refurbished 7FBE20 model to replace an old forklift from another brand and soon after purchased a new Toyota 6FBRE16 reach truck to use at its busy warehouse. Their existing 6FBRE16 reach truck has been retained as a back-up for busy periods.

Lighthouse Care co-founder Ron Hill says when the time came to upgrade their existing forklifts they were happy to continue their association with Toyota.

"We had our old Toyota reach truck set up at our warehouse in our large drive-in freezer. We were really happy with it so we approached the local TMH branch about purchasing another," Mr Hill said.

"Both the new and refurbished forklifts are great to drive and operate and we're really pleased with the service and support we've received from TMHA.

"It was quite a lengthy process as we had to wait for approval on a government grant to finance the new forklift, and TMHA were very patient and helpful throughout."

TMHA area sales manager Daniel Ford said it was very satisfying to be able to assist Lighthouse Care in providing its much-needed service to the local community.

"Their existing equipment was ready for replacement and it was very satisfying to work with Ron and the rest of the volunteers and staff at Lighthouse Care to provide a cost-effective solution to their material handling needs.

"It also serves as a great example of the quality and reliability of our refurbished forklifts, which provide an economical alternative to purchasing new equipment for those who place lighter demands on their equipment than large warehouses.

"Our refurbished forklifts are carefully chosen from our ex-rental fleet and each one goes through a very thorough check. All worn parts are replaced and they are stripped, washed and cleaned. Any damaged panels are replaced or repaired and are repainted," Mr Ford said.

Lighthouse Care was established in 2004 and originally distributed free bread to disadvantaged communities. It has since developed into a large volunteer-led organisation that provides 40,000 food parcels and assists over 60,000 families in need each year.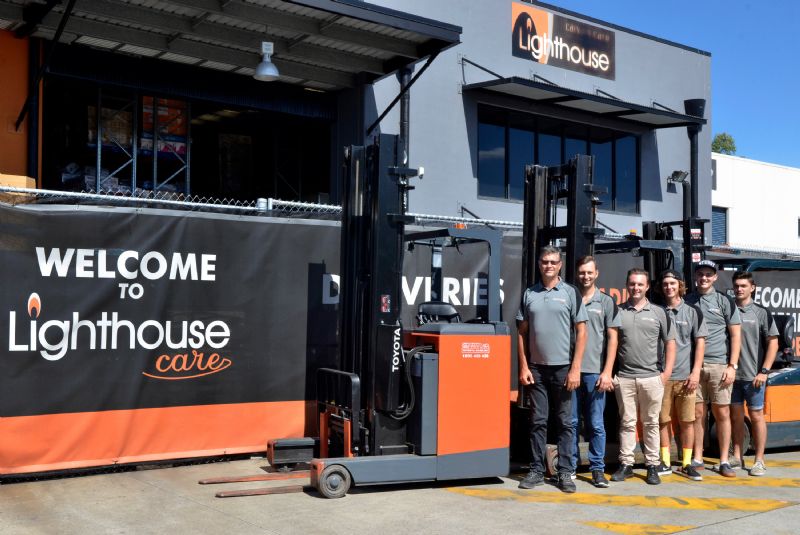 Lighthouse Care co-founder Ron Hill with sons Tim, Matt, Nate, Josh and Dan.