Got a budget limit that calls for a no-frills, used forklift solution?
Go Economy Class.
Toyota Material Handling has a huge range of used forklifts that have been checked, serviced and ready to go to new owners in as-is condition. They may lack some polish but they'll get the job done, and there's a wide choice of forklift brands priced to sell and ready to work. So why take risks elsewhere when you can purchase what you need from the biggest name in the material handling industry.
Don't risk buying just any forklift. Invest in Toyota Material Handling's Economy Class.
Search our range and find the right used forklift, skid steer loader, tow tractor or sweeper for your business, or call 1800 425 438 to have one of our friendly Toyota Material Handling pre-owned team assess your application and make a recommendation on the best used equipment for the job.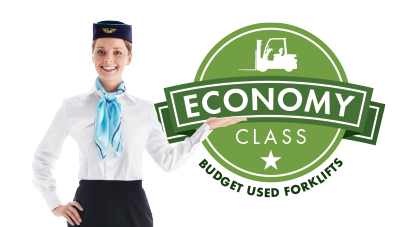 Economy Class for no-frills, budget used forklift solutions