INSIGHT - Toyota Material Handling Australia leads industry with strong 2022
BY TMHA VICE PRESIDENT & CHIEF OPERATING OFFICER, CAMERON PAXTON.
It may be hard to believe, but with our calendars ticking over into December and the holiday season around the corner, it's already time to reflect on what has been an exciting 2022 for Toyota Material Handling Australia (TMHA).
Despite all the difficulties associated with the effects of COVID, we are expecting that 2022 will be another record year for TMHA, growing our market share in what will also be a strong year for the industry.
This outstanding achievement reflects the passion and hard work shown by our People, partners, and suppliers, and is clear evidence that the excellent products and service provided by TMHA resonates with our valued customers.
We have seen our customers embrace TMHA's environmentally friendly forklifts and machines, with a considerable swing towards our cleaner and greener battery-electric products.
These days, approximately 60 per cent of all TMHA sales are made up of battery-electric forklifts and machines, showing a preference for the powertrain that produces zero operating emissions.
One of our biggest highlights for 2022 was welcoming not one, but two intakes of TMHA apprentices, helping to strengthen our commitment to developing the skills of young people.
Our apprenticeship program is crucial to the success of the business, with the vast majority of our apprentices staying on after finishing the program and growing into a broad range of career roles within TMHA.
We have also seen a great deal of career growth in 2022 with countless promotions across the business, whether that be for directors, general managers, line managers and more.
These promotions are crucial for keeping our business strong. A great example of these opportunities is one of our Melbourne Team, who started with us as a parts interpreter, progressed to an adult apprenticeship and was then promoted into a field service technicians role. He applied for a sales role in Cairns, was successful in securing the position and moved to Cairns in early 2022 to take up his new position. Nearly 12 months in, he has performed very well and exceeded our lofty expectations. Cairns has performed so well for TMHA that we're moving into a new facility in early 2023 and evidencing our commitment to far north Queensland, we have secured a 10 year lease on a suitable premises.
Our new purpose-built facility in Melbourne will also be fully operational by early 2023, consisting of warehouse and workshop facilities, a dirt demonstration area to test out our Huski brand of construction equipment, and state-of-the-art sealed and pressurised paint and preparation booths.
The Dandenong South facility will be the new home for TMHA's Victorian operations and sits on a site nearly twice as large as the previous site.
In 2022 we saw a return to face-to-face training activities which plays a huge role in upskilling our employees, and in 2023 we will be introducing a new purpose-built online platform to complement face-to-face training activities across all areas of the business.
Our "Made For More" campaign also saw us recruit qualified tradespeople from allied industries into the forklift industry to help facilitate and maintain our growth strategies.
The success of Toyota forklifts has allowed us to give back to the community in a range of ways from grassroots to professional sponsorships, such as continuing our support of the Canberra Raiders in the NRL, partnering with the Essendon Bombers as it embarked on its first-ever AFLW campaign, and our newly founded partnership with the Australian Turf Club.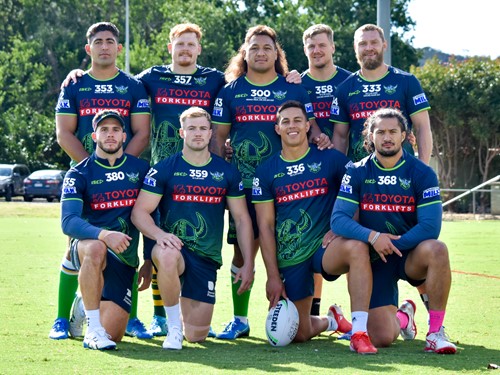 To all new and existing customers, we would like to thank you for your patronage and look forward to fostering ever-stronger relationships in the future.
Lastly, all of TMHA's success in 2022 wouldn't be possible without the tireless work of our valued staff, suppliers and partners – I mean it when I say that our people really are the point of difference that makes our organisation great, and TMHA wouldn't be the industry leader that it is without our incredible People. A big thank you from me to you all.  And, to our customers we are so grateful for the trust you place in TMHA, thank you as always for keeping us all in a job!
On behalf of TMHA, I'd like to wish a happy and safe holiday period for all, with a prosperous 2023 ahead.