The SpotME warning system helps protect warehouse workers and equipment. It's easy to install, low maintenance and flexible to fit into most applications.
Why Toyota SpotME?
Warehouses are crowded, fast-moving environments, where very limited traffic rules exist. Needless to say, a very high extra attention from forklift drivers and pedestrians is required. In areas with poor visibility, SpotME alerts truck drivers and pedestrians of the potential danger of collision, protecting the workers, the forklift and the goods.
Its infra-red (IR) direction sensitive sensors detect the movement or the presence of forklifts and pedestrians at the crossroads in due time. Whenever a crash danger is spotted, a SpotME warning unit is activated, which helps the driver to avoid accidents.
What makes SpotME unique and efficient?
1. Factory workers are better protected.
The alternating flashing lights (LED) used by SpotME are far more efficient in preventing accidents than flashing beacons or fixed warning lights.
2. Goods and trucks are less damaged and the energy consumption decreases.
Less panic brakes - and therefore an improved driving behaviour - help to reduce the risk of dropping goods and keep your forklift in a better shape, while also saving energy.
3. The system is easy to install and requires low maintenance.
Either install it yourself, or our technician installs it for you! The devices are simply fixed on the walls, with no set-up on fleet required. The sensor battery lasts up to 3 years.
4. The system is flexible, scalable and fits into most applications.
SpotME can be used at crossings, blind corners, doors and exits, etc. The warning unit can be connected to a standalone battery or plugged into the mains.
For more information on how SpotME can assist your business, please contact Toyota Material Handling on 1800 425 438.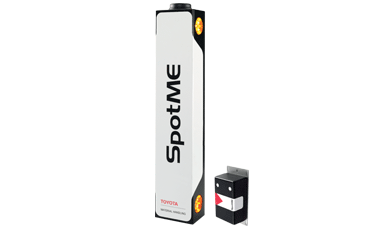 Click image above to see video of Toyota SpotME in action