TMHA FORKLIFTS KEEP ON TRUCKING FOR SIMON NATIONAL CARRIERS
One of Australia's largest privately owned transport companies, Simon National Carriers, has entrusted the exceptional safety, reliability and sustainability of Toyota Material Handling Australia (TMHA) to help keep its warehouses running at peak operational capacity.

Simon National Carriers recently purchased a fleet of 40 Toyota forklifts split between 7700 electric reach trucks and 32-8FG25 gas counterbalance forklifts, to be deployed among Simon's extensive array of depots across the country.

Quality forklift equipment is of particular importance to Simon National Carriers, who run a start-to-finish service for its customers where they will store stock once it has been received from the docks and will keep it stored in their warehouses until it is required by their customers.

According to Simon National Carriers assistant fleet manager Scott Horwood, in recent years the trucking specialist needed to upgrade its forklift fleet and canvassed the products from a range of brands to find the equipment that best suited their needs.

Following an exhaustive testing process, Simon inevitably settled on Toyota for both its reach trucks and counterbalance forklifts, with a number of features standing out to Mr Horwood.

"Toyota was definitely one that I liked from a point of view of what they offered in their reach trucks," he said. "Toyota offers what is called a sit-stand-lean product where they can sit down or fold the seat up and stand up.

"For me that was a big bonus, in the way it would suit our fleet. If we needed to move a forklift from depot to depot, we didn't have to worry about whether it is a sit-down or stand-up forklift.

"Some operators don't like to sit down all day. It can be fatiguing on their body. Standing up all day can be the same. It gives the operators flexibility on how they go about their day-to-day business."

Combined with the reliability and zero operating emissions of the reach truck's electric powertrain, the TMHA offering was too good to pass up.

The gas counterbalance forklifts also impressed Simon thanks to a couple of factors including the safety features and easy maintenance of the 32-8FG25 units.

"(TMHA has) a product that offers everything Toyota - from bumper to bumper, all the parts are Toyota," Mr Horwood said. "That is a pretty important thing when it comes to maintenance. No other product could offer that - Toyota genuine right throughout."

"The other thing they offer is the System Of Active Stability (SAS) safety system. It is a bonus for the operators because it means the operators are less likely to put the forklift in a predicament where it is going to roll over. It's a really good safety system - it may help prevent an accident before it happens."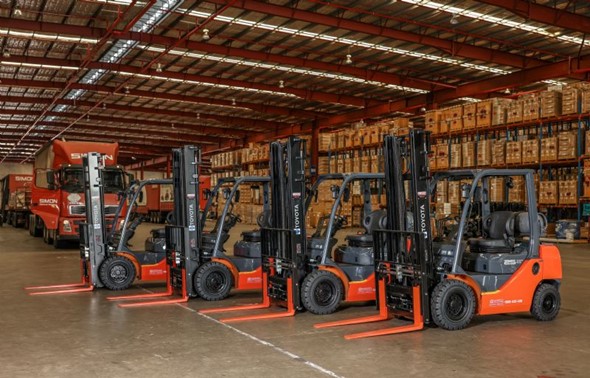 Mr Horwood also praised the inbuild weight indicator and speed limiter features as bonuses, while the supportive and ergonomic design of the machines have been particularly well received by warehouse workers.

"You don't think that when it comes to a forklift, but I've spoken to the operators and they say that these are really good machines, they feel comfortable after working 10 hours a day.

"And that's really important, you have to look after the guys that use them, you don't want them to be fatigued, you don't want them to be unsafe."

A strong relationship has been fostered by the Simon team and TMHA, with TMHA Queensland major account manager Martin Gross helping to facilitate the sale of the correct equipment thanks to his 35 years of experience with Toyota products.

Mr Gross said the legendary reliability and class-leading safety of Toyota forklifts was a big factor in convincing Simon to increase its fleet, after seeing the consistently excellent performance of the machines over a number of years.

"The reliability and safety were key factors to their decision making this time," he said. "Safety is critical, and it's critical to the industry really. We could offer some things that their competitors couldn't."

Mr Gross added that the relationship with Simon is cherished by TMHA, and that he was looking forward to furthering their strong partnership.

Mr Horwood remarked that Mr Gross has been a treasure trove of knowledge for Simon - no doubt thanks to his 35 years of experience around TMHA equipment - and that he has always been on hand to assist in any way possible.

"Martin's been great right from the get-go. His knowledge of the products is second-to-none, he knows his products back-to-front," he said.

"Dealing with Martin has been really easy, it's been smooth, and he's tried to help us in every way possible, even down to making sure the forklifts are delivered to the right depot."

At the end of the day, Simon needs forklifts that work every day and are built to last, which Simon has found in Toyota forklifts.

"The machines are brilliant. They just keep going and going and going. They're good, solid forklifts that are built to last. They're backed by the factory and the service is there to back it up."

The origin of Simon National Carriers can be traced back to the 1920s when it began as a timber company, but by 1973 it had expanded its business to include trucking and transport.

Over the decades it evolved into the Australia-wide operation it is today, with depos across the nation offering a diverse range of services from warehousing to project logistics and fleet operations.


For more information free-call 1800 425 438 or contact us, here.