TOYOTA FORKLIFTS COME FIRST FOR CELEBRATED WINE-MAKER
Hunter Valley wine-maker prepares for new Vintage crop with fleet of Toyota forklifts.

One of the most prodigious wine-makers in NSW has called on the exceptional reliability, safety and comfort of Toyota Material Handling Australia (TMHA) forklifts as it gears up for another summer harvest.

First Creek Wines, based in the verdant Hunter Valley region, has become one of the country's most successful contract wine-making businesses and recently took delivery of a fleet of 11 Toyota forklifts to help facilitate the massive amount of wine it produces and ships.

First Creek Wines produces around 3,000 tonnes of product and bottles, roughly 1.2 million cases of wine per year, and throughout the year operates a series of warehouses 24 hours a day, five days a week.

The fleet of 10 Toyota 8FBE18 3-wheel battery electric and one Toyota 8FD25 diesel forklifts need to perform strongly and reliably to help the business achieve peak operational capacity, and First Creek Wines managing director Greg Silkman said the exceptional reputation for reliability was a key factor in making the switch to TMHA.

"We need reliability because a lot of the time we're running 24 hours a day and we can't have any breakdowns during the night, and we can't have machines offline, and towards the end with our previous supplier we probably had one or two machines offline all the time waiting for parts to be delivered," Mr Silkman said.

Mr Silkman said that when the time came to order a new fleet of forklifts, trials were done with multiple manufacturers, however the performance of the Toyota machines received the most glowing praise from warehouse staff.

However, it is not just the reliability, safety and comfort of the forklifts that appealed to First Creek Wines - their relationship with TMHA area sales manager Allan Peacock ensured Toyota forklifts were at the top of their list.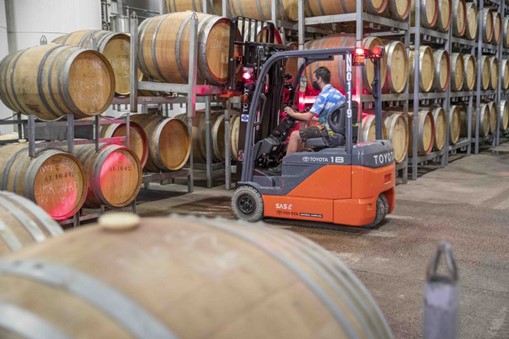 "It's been seamless from the time we met six or eight months ago to get the new forklifts," Mr Silkman said. "Everything arrived on time, they're great machines, our staff love them."

"Relationships will get you so far and product quality will get you so far, but if you've got a combination of both really good product and really good sales and service people, then it just works."

"You just feel like they care, which is really important. We feel like we've brought someone into the business who's working with us, it's a very important part of our business to have the forklifts running properly and no downtime."

After a demo unit was brought to First Creek Wines that impressed the warehouse staff, Mr Peacock ensured the timely delivery of the new fleet in time for Vintage season, which typically runs from January to May.

Mr Peacock ensured that all Toyota forklifts were fitted with red halo lights and blue rear spotlights, a feature that has been warmly appreciated by First Creek Wines for the greater visibility and therefore improved safety.

"On the bottling line the machines are working close to the staff, so having the halo lights around, and the blue reversing light, it's really good," Mr Silkman said.

"They're much, much easier for the operators, they're comfortable machines, and we've been really, really impressed with the safety features."

Highlights such as a suspension seat, integrated dash displays, longer battery life and safety features including the Toyota System Of Active Stability (SAS) system and the Operator Presence Sensing system have also been flagged as areas of the Toyota Advantage that compelled First Creek Wines to make the switch.

Along with its own First Creek and Silkman brands, First Creek Wines also produces wine for vineyards all over the Hunter Valley region.

First Creek started in 1998 with three other wine-makers, and the now-family-owned business employs 85 staff with three bottling lines, and is only looking to grow further with the help of TMHA.

Whether it is simply bottling wine or crafting the vintage post-harvest, its facility in Pokolbin has the capacity to store 7,000 pallets with five forklifts working on picking and packing orders alone.

With vintage season just around the corner, it is the most important time of the year for First Creek wines - a period when you need all aspects of the supply chain including material handling equipment to be working in unison to ensure the business is running at its full potential.
For more information free-call 1800 425 438 or contact us, here.