Leading Potato Supplier Keeping 'Eyes on the Fries' With Toyota Forklifts
One of Western Australia's largest "paddock-to-plate" potato suppliers, Beta Spuds, has made a large investment in improving its production reliability by outright-purchasing nine new Toyota forklifts.

Located in the Perth suburb of Mandogalup, Beta Spuds purchased seven 32-8FG20 and two 32-8FG30 Toyota forklifts in December 2020, in its first move away from a rental model after 27 years of business.

Reliability is particularly important for Beta Spuds given that it prides itself on a rapid production and delivery turnaround to ensure only the freshest potatoes are for sale, impressively delivering potatoes from its farms to store in less than 12 hours.

Beta Spuds CEO Matthew Cocciolone said that when considering new forklifts, reliability was top-of-mind. "That hadn't been the case, previously," said Mr Cocciolone. "So when we were reviewing the different forklift vendors, our guiding principle was that we absolutely needed reliable equipment. So we decided it was time to invest in equipment we could rely on performing consistently, with no downtime."

In the process of considering different forklift brands Beta Spuds uncovered a truth: that price doesn't necessarily equate to value.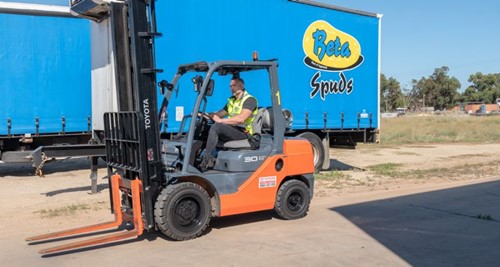 Toyota Material Handling Australia (TMHA) area sales manager, Danny Carbery, said that Beta Spuds was initially price-focused but later determined that the lifecycle and retained value of Toyota forklifts ultimately provided a better payback than a cheaper forklift that comes without a proven reputation for quality, safety and reliability. "To begin with they [Beta Spuds] were very price-orientated," said Mr Carbery.

"Given this was the first time they had purchased forklifts outright, they realised that the reliability and longevity of our forklifts was going to be a big factor in their return-on-investment. There were a lot of forklifts in the purchase so it was a big investment and they needed to make sure they were going to get the best value out of them over their life cycle.

"Also, they wanted to know that if they were going to hang on to them for, say, 10 years then they would still be able to recoup some of their investment in the form of resale value.

"Because they were so keen on making sure the equipment wouldn't break down, they also wanted a fairly strict servicing regime put in place to ensure we were on top of things before anything could go wrong."

Mr Carbery said Toyota's proven reputation for manufacturing forklifts that last the test of time is one of the key tenets of the Toyota Advantage: "We call it QDR which is short for quality, durability and reliability," he said. "Toyota has a highly refined production control system that stops production immediately when a problem occurs, thus preventing defects and producing high-quality machines.

"When you buy one of our forklifts you know it's not going to let you down," said Mr Carbery.

Beta Spuds' Mr Cocciolone said that during his due diligence process, servicing was heavily factored into the equation. "We ran the numbers and realised that it was not only the forklifts' purchase price and lifecycle that we were interested in, but also the servicing frequency and cost. We compared that to the cost of our previous forklift downtime and that became a big part of our purchasing decision. A strict servicing schedule combined with quality equipment was our insurance again against suffering any further down time.
"Also, ideally we wanted the servicing with a single vendor in order to secure the most efficient visitation cycle.

"And, yes, residual resale value was a consideration. At the moment our plan is to put the Toyota forklifts to work, and work them as seamlessly and for as long as practical in order for us to recover our investment in them. But resale is definitely a contingency and knowing Toyota forklifts have a high resale value was certainly another factor in our purchasing decision."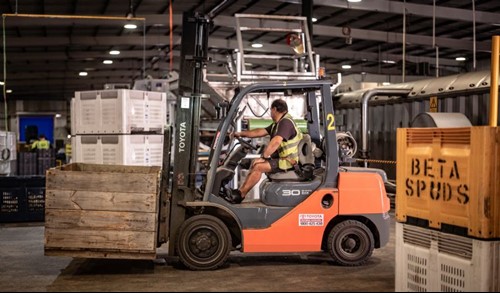 Mr Carbery said TMHA's Nationwide Parts & Service is another feature of the Toyota Advantage, with its factory-trained technicians being equipped with the latest diagnostic equipment ensuring fast, accurate diagnosis and carrying an extensive range of genuine Toyota spare parts to maximise equipment up-time.

Mr Cocciolone said an investment in nine Toyota forklifts was a large one for the business.

"We had never gone in the outright-purchase direction before so for us to buy such a large number of machines at once was a big step," he said. "When you're paying for a piece of equipment up-front there is an element of risk associated with it so we did everything we could to mitigate that risk through our due diligence process. We wanted to be sure to have confidence in the ability of the forklifts to last a long time, and there's no doubt Toyota's reputation for longevity played into purchasing decision."

TMHA's Mr Carbery said another contributing reason for the forklift's purchase was the Federal Government's generous Instant Asset Write-Off scheme which allows for eligible businesses to claim an immediate deduction for the business portion of the cost of an asset such as a Toyota forklift.

Mr Cocciolone said Beta Spuds has a long history of innovating with technology designed to streamline the process of delivering fresh potatoes as quickly and efficiently as possible, having introduced the first-ever wash-packer with vibrating screen-sizer to Western Australia in 1996, and in the following year the first WA company in the potato industry to be quality-assured SQF2000. Also, in 2010, it became WA's first and then only four-stage washing process with a hydro-cooler.

It's unsurprising, then, that the business capitalised on the opportunity to provide all its new forklifts with Toyota's I_Site telematics system, which helps fleet and logistic managers to understand vehicle status, driver performance and overall productivity in their material handling operations.

Mr Cocciolone said the I_Site system dovetailed perfectly with Beta Spuds' technological ideology. "Certainly it made sense because we wanted to be able to have better visibility of our operations and the I_Site system captures highly useful data in that regard," said Mr Cocciolone.

"Our approach is to design-in or engineer our success so the I_Site system was a logical extension of that ideology. We knew the data and the visibility of what the forklifts and operators are doing would be beneficial for the business.

"The I_Site system was implemented to specifically suit our production process and in combination with other factors it is a contributor to reducing our operating costs."
For more information free call 1800 425 438 or visit toyotamaterialhandling.com.au